In His True Queen (Smoke & Mirrors Duet #2) by Jodi Ellen Malpas, Meeting American actor Josh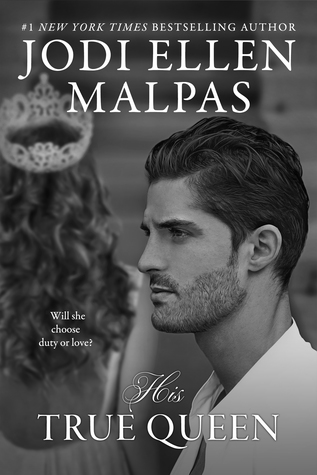 Jameson was life-changing for Princess Adeline. Not only did her connection with the dashing man take her by surprise, but her longing to concede to his control in the bedroom takes her to new heights she never dreamed of. As a British Royal, Adeline knows Josh is unsuitable as a serious lovematch in her life. But there are moments when she would gladly give everything up just to spend her days and nights face to face and heartbeat to heartbeat with Josh. And there are plans in motion to do just that, give up her place in the monarchy, until a horrible tragedy strikes her family, with Adeline soon facing more responsibilities and more restrictions in her life.
'Never before have I wished so hard for a man's arms to take me in them and hide me from the cruelty of this world. But only one man's arms are what I want.
And I can't have them.'
The changes in Adeline's life quickly get to her, causing her to shut down emotionally. Especially considering she has to face her grief, guilt and new tasks without the love and support of her American boy. One would think with her newfound power, it would come with more options to do as she pleases. But sadly that is not the case. Instead, Adeline has people she has never trusted advising her on how to keep the monarchy glowing in a positive light, not letting on to the public just how many secrets and scandals have been covered up over the years. With her beloved brother Eddie going off the rails, her mother as subdued as ever, and Josh not allowed in her life, Adeline must fight to right the wrongs of the past on her own so she can create the future she dreams of.
"Your status has never changed to me. You've always simply been mine."
I feel so lucky in this moment. So blessed to have found a man who is so fiercely determined to have me, no matter the cost, and more than that, one I am so incredibly in love with.
His True Queen was nothing short of spectacular. The second book in the Smoke & Mirrors duet took this reader down a winding, uncertain but ultimately victorious road where, as Malpas wrote: Love always wins. And I thoroughly enjoyed every steamy, drama-filled, passion-laced scene.
"I bow to no one," I whisper, blinking slowly, feeling intoxicated and dizzy from the sparks colliding between us. "Except you."
There is so much I want to discuss here…but I can't or I'll give away key plot points, which I certainly won't do to you. It's important to find out with this particular story how things unfold as you read both books. But wow did a lot happen in this conclusion of Malpas' epic duology. Was there family and personal drama? Oh, yes. Was there angst? You betcha. Were there misunderstandings and miscommunication? Sadly, lots. But was there still a sweeping sexy romance with a fairy tale ending? That would be a resounding yes. *Cue the happy tears*
Poor Adeline. Her world got turned upside down over and over again in this book. There were some truly heartbreaking issues for her to overcome and unfortunately it seemed like almost everyone she trusted previously either became suspect or ended up possibly betraying her. I say possibly because nothing was really as it looked. Adeline had to not only work through her emotions but she also had to sift through the secrets her family had been keeping for decades. And what she found out surprised even me. I thought I had it all figured out but Malpas through a curve ball in at the very end. (Which is always fun!) But through it all, Adeline showed her strength, determination and what a huge heart she had. I loved that she was again portrayed as such a strong female character with loads of compassion and a mind all her own.
Josh was still every bit the alpha guy with the slow Southern accent and charming ways, cursing up a storm and robbing Adeline of her breath and sanity when he got her alone. But he also was called into question as to his intentions, and what he did in his time away from his lovely Royal. I can't get into specifics, but I will say to trust in Josh's genuine feelings for Adeline. Malpas did a great job of keeping the sexual tension between them ramped up all while throwing in the changes going on in Adeline's life–which affected their time together greatly. There were some super smexy scenes that will have the pages burning up for readers. (Can anyone say angry sex?) And some sweet, oh-so touching moments that showed the true bond between Josh and Adeline.
A Royal who shook the monarchy to its very core. A handsome American actor laser-focused on his woman. And a romance that shattered their worlds only to rebuild it all in the most swoon-worthy of ways. His True Queen was a decadent story that will stay in my heart for a long time to come, as will all of the multi-layered characters we got to meet along the way.

Book Info:

Publication: August 7th 2018 | Jodi Ellen Malpas | Smoke & Mirrors Duet #2
The breathtaking conclusion of the Smoke & Mirrors Duology.
A beautiful, defiant princess. A renowned, sinfully gorgeous Hollywood actor.
A love affair that is sure to rock the British Monarchy…and the world.
Their love affair began intensely and passionately. Princess Adeline and Josh Jameson knew any future together was impossible—her status as a princess and his standing as a Hollywood heartthrob dictated that. But the heights of pleasure they could take each other to were wildly unanticipated by them both. Josh's absolute disregard for Adeline's status quickly drew her into his hedonistic world. And her perfectly worn mask and false façade captivated Josh to the point of obsession. The boundaries became blurred. The physical became emotional. Their hearts became entwined.
But a cruel turn of events rips their worlds apart and Adeline is more bound than ever by the protocol and expectations her title commands. The army of royal advisors who guard the secrets and scandals of the Monarchy will go to unthinkable lengths to keep the smoke and mirrors in place…and Josh away from Adeline. She knows the power she possesses comes with agonizing sacrifices. Walking away from Josh devastates her…but it keeps him safe from the corrupt institution that has ruled her life.
Yet Josh refuses to lose the woman who has consumed him so completely, distorted his boundaries, and stripped him of all sensibility.
Will the power of the British Monarchy triumph? Or will their fierce love for each other change the course of history?