His Two Royal Secrets by Caitlin Crews  is a sexy 'one night with consequences' romance for a Prince and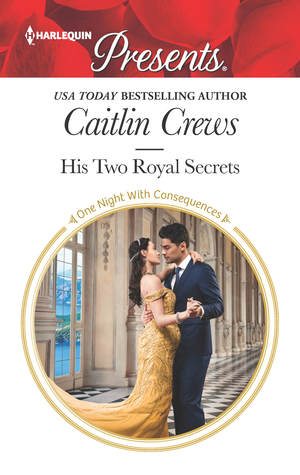 the woman who will become his Queen, in name and in his heart.
Pia Combe lived a sheltered life under high expectations from her beauty queen mother and businessman father. So when she had the chance to let loose for a night in New York City, she took advantage of it and ended up in bed with a sexy stranger. Little did she expect that she'd end up pregnant, with twins! Nor did she expect to see her one night lover again at her father's funeral.
Prince Ares of Atilia ( a small island country in the Ionian Sea) wants nothing to do with the expectations of his cold and angry father, like saddling himself with a wife and child. He's been careful not to get himself into any delicate situations – but that all flies out the window when he comes face to face with a very pregnant Pia, a woman he'd not stopped thinking about since their sensual night together. With the paparazzi buzzing for a story, one easily stirred by Pia's brother Matteo's reaction to discovering Ares is the one who knocked up his sister, Ares spirits Pia away to the Southern Palace of his island home. There the couple try to figure out where their next steps will take them. Will Ares change his mind and discover marriage and a family are actually the future he desires?
His Two Royal Secrets is a follow up to Pia's two brothers' stories The Italian's Twin Consequences and Untamed Billionaire's Innocent Bride, both of which can be read as standalones and parts of which overlap with this story. I've been waiting to find out more about Pia and her mysterious lover and it was worth the wait!
Pia and Ares both come from wealthy backgrounds with complicated family dynamics. Pia had flighty parents who didn't always treat her very well and she came out of that experience not wanting her own children to ever feel unloved or unwanted. As for Ares, he had a loving mother who died a few years earlier and an ill-tempered father. Having seen their marriage and his father's many mistresses flaunted in his mother's face, he'd decided long ago that he didn't care to continue the royal line with an heir of his own, mostly to thwart his father's plans. Now that Pia is in his life and carrying his sons, he finds himself having to reconsider.
Avoiding the paparazzi means spending a lot of time alone together in Ares's idyllic hideaway. It gives them the chance to grow closer together, and to reconnect in some sexy and intimate scenes. All the while Pia is getting closer to her delivery date. While she is falling for Ares, she's not sure how he feels, nor is he – until a sudden crisis makes him realize what his life would be like without her. They get their happy ending and there is a sweet epilogue that shows a glimpse of their family's future. It's a thoroughly enjoyable unexpected pregnancy romance!
Book Info:

Publication: June 18, 2019 | Harlequin Presents | One Night with Consequences
From heiress in the shadows
…to his pregnant princess!
For one passionate night, in a stranger's arms, Pia had felt beautiful and free…free of being the lonely, overlooked heiress to her family's millions. Then Pia learns she's carrying the Crown Prince of Atilia's twins! Ruthless Ares is determined to claim his secret heirs, but he won't—can't—promise Pia more. And Pia's true royal secret? She's falling inescapably in love with her dark-hearted prince…