In Maybe This Time by Jill Mansell, Mimi Huish is more than happy to spend time visiting her father in his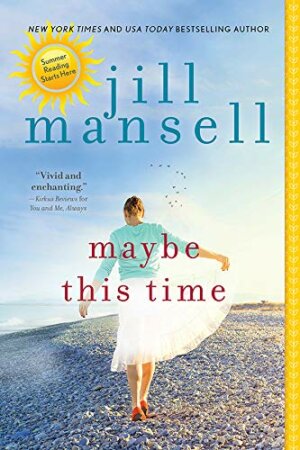 new-ish home in Goosebrook, a small but gorgeous village in the Cotswolds, even though she considers herself a city girl. Between the beauty of the countryside and the amazingly friendly people she meets, it's no hardship to consider it her home away from London. And when tragedy strikes, shaking up Mimi's and Goosebrook's world in a way none of them can fathom, it's the lovely villagers who take her under their wing, showering her with love and understanding as they all attempt to heal from their loss.
"Sometimes life was just unbearably unfair.'
A few years later, with Mimi embarking on a new career, moving to Majorca, her timing is once again off in regard to local guy Cal. They have some major sparks between them and always have. But it seems like they are destined to be on opposite pages when it comes to the chance of a romantic liaison unfortunately. As their lives become more entangled–and complicated–Mimi will need to decide if she should keep her feelings for Cal to herself or, if the time presents itself to say something, if she should give it a go. Because if there's one thing she's learned the past few years, it's that life is precious. And sometimes you have to take a chance, even if it means failure.
"All this time…I've wondered how you felt about me."
"Have you? Really?"
"Oh yes. But I was scared in case it was just wishful thinking on my part. Because making a mistake would have been…well, awful. And it was too important to risk messing everything up. Every time I thought maybe it could happen, something went wrong."
An epic story about loss, healing, love, family and community, Maybe This Time had me howling with laughter at times, and then crying over the tragedy that befell our characters. But through it all, Jill Mansell's charming storytelling ability was on full display.
'Wouldn't it be wonderful if something could blossom as a result of this most serendipitous of meetings, and after such an unpromising start?'
I was completely captivated by Maybe This Time. I'm a big fan of Jill Mansell's work anyway, but this was a pretty magical story to tell the truth. It had a perfect flow to the writing and it was set in our heroine Mimi's POV instead of having multiple POVs as would be the norm for Mansell's books–and I loved it. Mimi was a hoot! I had such fun with her "voice" and thought she was just a lovely person. She certainly had some bad and even tragic things happen along the several years we followed her, but she wasn't one to give in to her sadness and instead made a plan and tried to move forward. I very much admired that tenacity in Mimi.
From Cal and Mimi's meet-cute which involved a sheep stuck upside down in a field (lol!) to the many miscommunications between them and fellow residents of Goosebrook, there was a wonderful current of lightheartedness that brought up the spirit of this story. I adored the many locals we met along the way, like Felix, Lois, and Paddy, as well as other important people like author CJ, who turned out to be a surprisingly good guy for all his attitude at the start. They all helped make Goosebrook feel like a real community full of people who cared about one another. They especially took a liking to Mimi, of course. Who wouldn't? And as her path kept crossing with Cal's, their time never seeming to be right to capitalize on their chemistry, I became more enthralled with how it would work out–or even *if* it would work out when life or even friends didn't exactly make things easier for them in many ways.
Delightful and engaging, Maybe This Time might just be my new favorite novel by Jill Mansell. It had all the warmth, humor and heart I've come to expect from her, with the added bonus of a striking cast of characters both memorable and relatable.
Book Info:

Publication: Published June 4th 2019 | by Sourcebooks Landmark |
International bestseller Jill Mansell is back with a new book about star-crossed lovers, family, and, importance of community.
Is there ever a perfect time for love?
When Mimi Huish first visits her dad's new home in the Cotswolds, she falls in love with Goosebrook and the people who live there. There's Paddy, with his electric-blue eyes and seductive charm. Friendly and funny Lois makes Mimi laugh. And seriously gorgeous Cal Mathieson is welcoming and charismatic. Though Mimi loves her city life and her career, she'd be very happy to return to Goosebrook if it means seeing more of him.
Life is about to take some unexpected and shocking twists and turns. And Mimi's path and Cal's are set to cross again and again—but will it ever be the right time for both of them?