His Unexpected Heir by Maureen Child: The service is amazing and the men and women who take part in it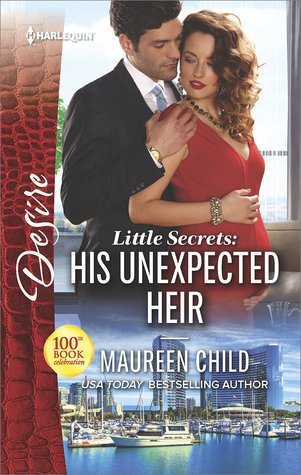 are true heroes. Sometimes they don't always come home whole though, not just physically speaking.
Rita Marchetti had a quick week with a Marine before he went off to finish his tour of duty. Then he never wrote, never called and she mourned his loss, fearing him dead. Then she fell in love with what he left behind just for her.
Jack Buchanan would always be a marine though he feared he would never be whole again. His last tour of duty had shaken him. He would go on, but he would never let anyone get close again.
Then a chance course of wind, laughter he hadn't heard in months and an awareness meant these two would be brought face to face and belly to belly. So much has changed in six months, but what will the next three months hold.
Ms. Child has done such an AMAZING job with this novel. Hidden baby, solider and one of the best portrayals of a hero dealing with PTSD ever written, this novel is truly a step above. The love story is so heart wrenching and well written that it will have the readers falling in love with the character's strength and inner beauty of heart. Fair warning in that the PTS is very real and touches deeply. Amazing story though and one you should go pick up, now.

Book Info:

Publication: Published July 3rd 2017 | Harlequin Desire | Little Secrets #1
Between duty, honor…and a baby! Only from USA TODAY bestselling author Maureen Child.
Six months. That's how long Rita Marchetti has mourned Jack Buchanan. Yet here he is, alive, standing in front of her, perfect…and devastatingly sexy! Even more amazing is the former marine's admission that he wanted Rita to think he'd died. But the two of them are about to become three and Jack is back just in time.
That baby Rita is carrying is his. Despite the pain he holds so close to his heart, Jack can't walk away from his child. A marriage in name only would solve everything. Everything except a desire too deeply buried and too long denied…