In A Spark of Light by Jodi Picoult, When police officer and hostage negotiator Hugh McElroy said goodbye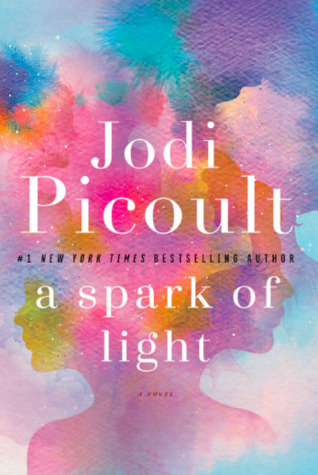 to his beloved daughter Wren that morning at breakfast, he never would have dreamed he would next see her as a hostage in a women's health clinic. Just fifteen years old, he can't imagine what Wren and his older sister Bex are doing there. But as Hugh begins a conversation with the shooter, George Goddard, and tries to end the standoff without any more casualties or injuries, he realizes all too clearly that though George's beliefs may be quite different than his own, it makes them no less real.
'Hugh would never take a life because of his own beliefs.
He realized with a tiny shock that exact conviction was what had brought George here today.'
Being a doctor who travels the country teaching and working in women's clinics performing abortions is not the safest occupation in the world. Dr. Louie Ward knows this well. But he's never been so deeply fearful for his life and that of the people around him as he is when the man walks into the clinic and begins to shoot. Hurt and unable to assist others, Louie does what he can to keep the women as calm as possible. He can only hope that the hostage negotiator will find a way to connect with the gunman, giving them all the opportunity to make it out of the clinic alive. But given the mental state George is in, Louie isn't sure that will actually happen.
'Louie's final thought before he passed out was that this was indeed some crazy world, where the waiting period to get an abortion was longer than the waiting period to get a gun.'
Compelling and controversial, heartrending and touching, A Spark of Light was the type of emotional novel that will stay with readers long after they finish reading it.
'That's what you did for people you loved, right? You protected them from what they didn't want to know.'
Trigger Warning: Picoult detailed abortion procedures, both medication based and surgical; the murders and injuries to the hostages were explicit; and she also touched upon different forms of abuse in characters' backgrounds.
Note: Please do not book or author bash. We all have opinions on this topic, but please keep it constructive. Thank you!
If there is one thing Jodi Picoult's books make me do, it's think. She has a knack for getting right into the heart of whatever subject matter she's chosen for a particular novel and breaks it down into its most basic human elements. I find myself frequently surprised by the reactions I have to her characters and their struggles, sometimes even finding empathy in situations I never would have expected. And that was exactly how I felt reading A Spark of Light. I went into the story with my own views, of course, but have to admit that both sides of the issue had valid and well-thought out arguments on the subject. It was a true testament to the time, research, and care with which Picoult crafted this complicated story.
The way this book was mapped out, with multiple POVs–and most importantly–the timeline running backward until the very final chapter, was so creative. We began at basically the end of the negotiations (right before a crucial moments) and then worked our way back, hour by hour, until we got to see how it all began earlier that day. Now, there were really too many characters to discuss individually here. But what I thought was most intriguing was seeing the wide assortment of people Picoult described and threw into the situation. There was an artist, a former college professor, a cop, a doctor, a former soldier, a nurse, a high school student, a business owner, etc. And they all had a reason for their beliefs, which I fully respected. Some of their backgrounds and reasons for their choices were tough to read about but I think it (unfortunately) represented real life scenarios of how people would find themselves in the predicaments these characters wound up in.
A story about choices based on our individual beliefs–and their sometimes catastrophic consequences–A Spark of Light was an absorbing story which I think will have a deeply personal meaning for readers.

Book Info:

Publication: Published October 2nd 2018 | Ballantine Books |
The warm fall day starts like any other at the Center—a women's reproductive health services clinic—its staff offering care to anyone who passes through its doors. Then, in late morning, a desperate and distraught gunman bursts in and opens fire, taking all inside hostage.
After rushing to the scene, Hugh McElroy, a police hostage negotiator, sets up a perimeter and begins making a plan to communicate with the gunman. As his phone vibrates with incoming text messages he glances at it and, to his horror, finds out that his fifteen-year-old daughter, Wren, is inside the clinic.
But Wren is not alone. She will share the next and tensest few hours of her young life with a cast of unforgettable characters: A nurse who calms her own panic in order save the life of a wounded woman. A doctor who does his work not in spite of his faith but because of it, and who will find that faith tested as never before. A pro-life protester disguised as a patient, who now stands in the cross hairs of the same rage she herself has felt. A young woman who has come to terminate her pregnancy. And the disturbed individual himself, vowing to be heard.
Told in a daring and enthralling narrative structure that counts backward through the hours of the standoff, this is a story that traces its way back to what brought each of these very different individuals to the same place on this fateful day.
Jodi Picoult—one of the most fearless writers of our time—tackles a complicated issue in this gripping and nuanced novel. How do we balance the rights of pregnant women with the rights of the unborn they carry? What does it mean to be a good parent? A Spark of Light will inspire debate, conversation . . . and, hopefully, understanding.