In Dark Water (Psychics of Barfleur #1) by Tricia Tyler, Special Agent Nick Garrison isn't a fan of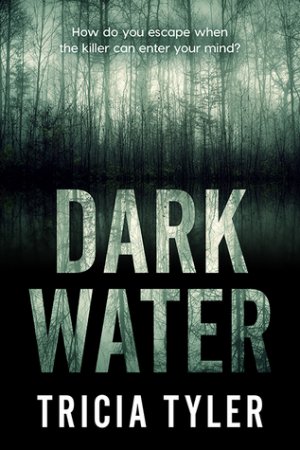 psychics, but for his latest case it might take Evangeline 'Evie' Broussard's skills to take down a serial killer. Too bad he can't trust her. Yet, the closer they work together, the more Nick finds himself unable to resist the woman he's so determined to protect from danger. Will Nick be able to keep Evangeline safe or will they lose their shot at happy ever after because of the target one of them has on their backs?
She shot Special Agent-pain-in-the-ass a look of determination. "Where you come from, women may fall at your feet, but here on the bayou, women are made of sterner stuff."
He stepped back, raised his hands, and shrugged, his flippant attitude arguing with the lingering gleam of concern in his eyes. "Okay, you've made your point. You're tough. How about we use all that grit of yours and hike back to civilization and an air-conditioner?
What an absolutely spellbinding, fast-paced, wonderful read Ms. Tyler has delivered in this first book of her Psychics of Barfleur series where the main characters were incredible due to their back stories and everything they go through while hunting a serial killer; and the dialogue made this story a total page turner because of the descriptions of the Bayou and whether the hero and heroine working together would be enough to stop the killer. However, it was from the moment the hero and heroine come face-to-face for the first time where this story really takes off, as the hero sees the heroine as the enemy because of things that happened in his past. Will Evangeline be able to prove to Nick that he can trust her?
As for the dialogue, it was highly entertaining and intense due to the main characters back stories, as the hero and heroine feel such guilt over things that have happened in their pasts; things that they could have prevented if they'd done things differently. Will the heroine be willing to help the hero and her cousin (who is a detective) in solving the murders, especially after the last case she helped on went so horribly wrong? Will the hero be willing to accept the heroine's help, especially after his last experience with a psychic? Moreover, the heroine was resilient, courageous, stubborn, driven to help because of what she discovers about why a serial killer has murdered the people he has and I liked how much of a challenge she provided the hero because she knows how to take care of herself. While the hero, he's confident and driven when it comes to solving a case; protective of the heroine and I liked that he gave her a chance to prove she could help him solve the case, even if he's continually cynical about her abilities. I also liked that he was willing to use any means necessary to uncover information when the unthinkable happens.
At the door, she grasped the knob and paused. She didn't bother to face them with her parting shot. "I'm thinking it's my turn to set you up on a blind date next time, cousin. Oh, and Nick, you might want to watch out for Gumbo when you leave."
"I thought you said your dog wouldn't show up in this weather."
She opened the door and entered her room before swinging around to face him. "Nothing is life is guaranteed." She waited for a split second, wanting to see the look on his face. "By the way, Gumbo isn't a dog. He's a gator."
Overall, Ms. Tyler has delivered an astounding and extremely satisfying debut novel in this book where the chemistry between this couple was off-the-charts and tangible from the moment they meet, even though they don't trust each other; the romance was delightful and had me loving how good these two are together; and the ending had me worried for various characters in this story because of what happens, but had me enjoying the hero's determination to take down the serial killer he's after and protect the heroine. Will he be able to keep the heroine safe? However, it was the epilogue that wrapped this story up wonderfully because of how things have turned out for Evie when it comes to family ties and how things have turned out for her and Nick. Yet, it was Nick's final words that left me smiling long after I finished this book. I would recommend Dark Water by Tricia Tyler, if you enjoy romantic suspense with paranormal elements, the enemy to lovers trope or books by authors Nina Croft, Abigail Owen, Lisa Kessler and Zoe Forward.
Book Info:

Publication: September 24th, 2018 | Entangled Publishing | Psychics of Barfleur #1
Psychic Evangeline Broussard is certain nothing will ever induce her to work with law enforcement again –– until a serial killer starts using her small bayou town as his own personal hunting ground. The powdered sugar on her beignet though is being forced to work with Special Agent pain-in-the-ass, Nick Garrison, whose cynicism toward her psychic ability is matched only by his hotter-than-a-Louisiana-summer sex appeal.
Nick's opinion of so-called psychics is carved in stone, as well as on his heart, which puts his best friend's little cousin squarely off limits, regardless of how much the sassy, Cajun, spitfire turns him on. But when her supposed sixth sense, and a leak in the local police department, put her in the crosshairs of the killer, she's the only one who can save them all.