t's not a new concept – two tortured souls coming together and finding love. But for Eliza and Leo, things are a lot more complicated than that. In His Final Bargain by Melaine Milburne the issues are so large and daunting that it's difficult not to get a little tense while reading about them.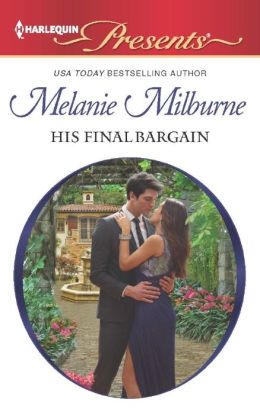 Eliza had broken things off with her High School sweetheart the night he wrapped his car around a tree. She can't face the prospect of telling his mother after all she'd been through that night, since she blamed herself for the entire tragedy. So she chooses the lesser of two evils. Sacrifice her own happiness to be a fiancee and surrogate daughter.
Leo lost his mother in the worst way possible. When he was just a boy, she took off – but not quietly into the night. Since the Valentes are a prominent family in Italy, she took all her grievances to the press and spewed a litany of hate towards her husband and her son. To top it all off, she bragged about her infidelity and blamed everything on Leo and his father.
Years later, on the night he buried his father, he tries to drown his sorrows in a couple of fingers of whiskey. Eliza is on holiday when she sees him across the bar and is drawn to him like a moth to flame. What begins as a one-night stand turns into a three week affair. At the end of her time in Italy, Leo can't fathom a life without her and proposes. He has no idea she isn't free.
Four years later, the school for troubled children at which Eliza teaches is on the brink of closure. The employees decide to make one last push at raising funds, and that's when Leo shows up on her doorstep. He knows about the school's trouble and that he can easily bail them out. As his regular nanny is taking some time off, he offers Eliza a temporary position – in exchange for more than enough money to save the school.
For the sake of the children and the livelihoods of the other employees, she reluctantly accepts. However, she knows Leo has other motivations, so can she survive the month-long internment living in close quarters to the man she had to leave behind? While that's all true, the kicker comes when she finds out that Leo's daughter has her own special needs, and Eliza has more to answer for than she ever imagined.
I have to say, this is one of the steamiest Harlequin Presents titles I've ever read – but very tastefully done. The Hero sometimes vacillated quickly between affection and hatred for Eliza, but I brushed it off as a very slight inconvenience because the rest of the story is exceptional. There were several points where I could've sworn there were onions being chopped under my nose (I try not to admit a book made me teary). Good story, engaging characters, only a couple of snags where I was almost taken out of the story. The book gets a solid 4 hearts.
Book Info
Publication Date: May 21, 2013 | Series: Harlequin Presents (Book 3147)
A beautiful love affair and a burning betrayal…
Eliza Lincoln is stunned to find Leo Valente at her door; four years ago his passionate embrace was a brief taste of freedom from her suffocating engagement. Until Leo discovered her secret…Yet he hasn't come to rekindle their affair. He has a proposition he knows Eliza can't refuse: she's the only person who can help his small, motherless daughter.
Torn, Eliza can't ignore a vulnerable child, but the last time she was near Leo her desire nearly consumed her. Is she willing to take that risk again now that the stakes are even higher?