Holding On by Stacy Finz is the eleventh book in the Nugget Series, which takes place in the small-town of Nugget. I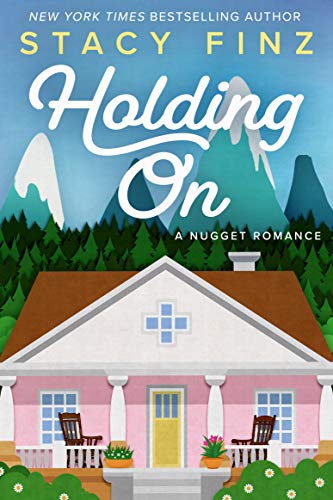 have not read all the books in the series, but I did read the previous one (Choosing You.) I do suggest reading it first because Joey, who is the main character of this book, plays a major role in Choosing You, which is her ex-husband Ethan and Brynn's story. Joey tries to convince Ethan to allow her another chance and to put their family back together for Veronica "Roni" their daughter's sake. In the end, she finally acknowledges that she loves Ethan but is not in love with him and that she deserves to be in a relationship with someone who loves her.
Joey Nix's opioid addiction caused her to lose her husband, her nursing license, and her custody of Roni. Now clean, she is working to get her license reinstated and finding a job close to the small town of Nugget where Ethan and Roni live. She is struggling to accept the changes in their family dynamics and not being part of Roni's daily life. Joey resents Brynn for being able to spend more time with Roni and how everyone in Nugget loves Brynn. She finally has a chance at a job in Nugget but soon realizes that her patient's son was the man she had run into several times and shared a kiss with. She realizes Ryder does not want to hire her, but she is determined to show him she can be professional and is qualified for the job.
Ryder Knight showed up in the previous book also. He was an unknown man that Joey met and shared a kiss with at the Ponderosa, a restaurant in Nugget. He liked the town and when he needed a place for his mom to stay, he bought a house there. He desperately needed to find a caregiver to take care of his mother, Siobhan "Shiv." Shiv was recovering from a stroke and needed in-home care but there were not a lot of candidates for the job. He never expected the unknown woman to be the applicant the homecare company would send. With their history, Ryder did not want to hire Joey but with no other applicants, he reluctantly hires Joey on a trial basis. There was still chemistry between them, but Ryder was holding onto his past and refused to have a relationship.
At first, I did not like Joey, probably because she came off as self-centered and pushy in the previous book. She slowly grew on me as she admits she screwed up and that her mistakes cost her everything. Joey felt like she was accepted by everyone in Nugget even though she had made bad life choices. She finally starts to accept the blended family that is now part of her life. Ryder was so charming and devoted to his mother. He was dependable and straightforward. He never judged Joey instead, he supported and encouraged her when she needed it. I was drawn into the series by all the warmth and kind-hearted characters of Nugget. The books I have read so far have been beautifully written and I hope to read more future books in this series.
Book Info:

Publication: May 18, 2021 | Kensington Books | Nugget #12
In New York Times bestselling author Stacy Finz's Nugget romance series, a picturesque California mountain town is the perfect place for fresh air—and fresh starts, especially when it comes to love.
One divorce, one mind-blowing kiss with a stranger (code name: Matthew McConaughey), and one year later, Joey Nix desperately needs to find a job in Nugget. It's the only chance she'll have of sharing custody of her sweet little daughter with her soon to be remarried, renowned surgeon ex-husband. Luckily, Joey's qualified to work as an in-home caregiver. Coincidentally, a job offer comes from the afore mentioned unforgettably sexy stranger (real name: Ryder Knight). It's a terrible, irresistible idea . . .
Ryder needs help with his ailing, depressed mother, and darn if Joey isn't the best candidate. Good thing he'll be sleeping in his camper, because their chemistry is still crackling. Besides, the loss of his wife and unborn child five years earlier have left Ryder squarely focused on his trucking company—and even that's on shaky ground. Still, Joey knows how to lift his mom's spirits. And his too—despite a troubling secret she's shared with him. But when she asks him to accompany her to her ex's wedding, Ryder "I don't do weddings" Knight will have to do a lot of soul searching. What he discovers just might surprise them both . . .