In That Summer by Jennifer Weiner, From the outside looking in, Daisy Shoemaker seems to have a charmed life.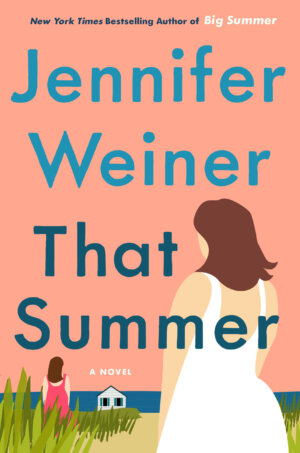 She and her lawyer husband have a grand home in Philadelphia, their teenage daughter Beatrice goes to private school, and Daisy even has a modest side-business giving cooking lessons. But she's feeling more and more restless. Like she needs something new–maybe even a true friend–in her life.
'How long had it been since she'd had someone's complete attention this way, for this long? How long since she'd felt like she was with someone who could see her, and could see how hard she was trying?'
It's when Daisy is at a fairly low point that she begins getting emails for a woman with an almost identical email address. Intrigued, she ends up corresponding with Diana Starling and they hit it off. But the closer the two women become, Daisy can tell something isn't quite right about the situation. Although she's not sure she should rock the boat and ask questions. Because once she starts questioning Diana, who knows what she'll find out. Or how it will ultimately affect Daisy and her family.
'The wheels she'd set in motion were turning; the train was racing down the tracks, and Diana couldn't stop it, not even if she'd tried.'
That Summer was another well-told women's fiction novel by Jennifer Weiner that will keep you guessing about the connection between the two heroines–and will also surprise you with its shocking twists and turns.
'When someone tells you who they are, believe them.'
Trigger warning: View Spoiler »Sexual assault, suicide, depression, substance abuse. « Hide Spoiler
I will be right upfront that this will not be an easy novel for some readers. It deals with heavy subjects and intense emotions, part of which–without giving too much away–was regarding the #MeToo movement. It took me the first third or so of the book to figure out the dual timeline and to get both of the heroines straight in my head. I think I was trying to piece things together too early on instead of letting the story lead me through it (if that makes sense). After that, though, I was hooked.
Interestingly, we had four POVs to follow. It was mainly Diana and Daisy, but we also got to hear from Daisy's teenage daughter Beatrice and Daisy's husband Hal, briefly. With the way the book started off, I thought Daisy and Diana would turn out to be polar opposites, given their backgrounds and where they ended up in life. But they had a lot more in common than I expected. And it was the way they related to each other that created an unlikely friendship between them–and that caused things to be very difficult for a time toward the end of the story.
Through it all, Weiner was able to convey very clearly, through her descriptions and how each scene was set up, exactly what emotion each character was feeling. To me, it made this a very intimate, easy to undersand story. One that many women will understand all too well and in turn be able to empathize easily with both Diana and Daisy. I do want to mention as well that the ancillary cast played a large role in the storyline. So readers will want to pay attention to the details we get about those characters, in addition to Daisy, Diana, Beatrice and Hal.
An important, thought-provoking novel that touched upon female relationships, empowerment, and overcoming trauma, Jennifer Weiner turned front page news into a relatable, highly emotional story in That Summer.

QOTD: Are you a fan of Women's Fiction, where it focuses more on the personal journey of the lead characters? Or do you prefer something with more of a romantic theme?

Book Info:

Publication: Published May 11, 2021 | Atria Books |
From the #1 New York Times bestselling author of Big Summer comes another timely and deliciously twisty novel of intrigue, secrets, and the transformative power of female friendship, set on beautiful Cape Cod.
Daisy Shoemaker can't sleep. With a thriving cooking business, full schedule of volunteer work, and a beautiful home in the Philadelphia suburbs, she should be content. But her teenage daughter can be a handful; her husband can be distant, her work can feel trivial, and she has lots of acquaintances, but no real friends. Still, Daisy knows she's got it good. So why is she up all night?
While Daisy tries to identify the root of her dissatisfaction, she's also receiving misdirected emails meant for a woman named Diana Starling, whose email address is just one punctuation mark away from her own. While Daisy's driving carpools, Diana is chairing meetings. While Daisy's making dinner, Diana's making plans to reorganize corporations. Diana's glamorous, sophisticated, single-lady life is miles away from Daisy's simpler existence. When an apology leads to an invitation, the two women meet and become friends. But, as they get closer, we learn that their connection was not completely accidental. Who IS this other woman, and what does she want with Daisy?
From the manicured Main Line of Philadelphia to the wild landscape of the Outer Cape, written with Jennifer Weiner's signature wit and sharp observations, THAT SUMMER is a story about surviving our pasts, confronting our futures, and the sustaining bonds of friendship.