Holding Out (Returning Home #4) by Serena Bell is a quick read about two people within a circle of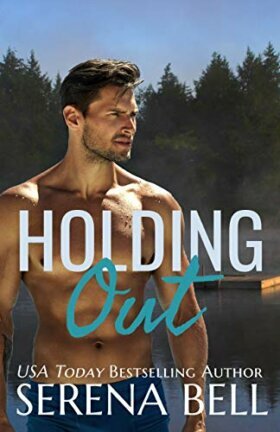 friends that are really perfect for each other if they would only allow themselves to see it. This is the story of Griff and Becca's story.
Holding Out initially starts with a couple who originally agree on one night together for a specific reason, in that Becca wishes to lose her virginity. Griff having been burned by love previously is happy to take up the challenge as long as Becca understands it will be a strictly 'one and done' deal.
Both coming from a close group of friends, that include Becca's older sister, who is incidentally married to Griff's best friend brings about its own set of challenges in keeping things on the down low, especially after the deed is done Griff realises that he may not actually see Becca in the same light as his previous one-night stands. They may have had the one, but Griff is far from done… And Becca is fully on-board with the plan. But the more that they are together, the more that what was a deal becomes real.
I really liked this book and these characters. I loved the story line and the HEA at the end of this book made it even more special. Great read.
Book Info:

Publication: May 21st 2019 | Jelsba Media Group | Returning Home #4
She's done being a virgin. He's willing to help her out. Only now he has a problem of his own: He can't stop wanting more.
The answer has to be no, of course. No way Griff Ambrose is going to help Becca Drake lose her virginity. Not only is she his friend's little sister, but Griff doesn't do commitment—not since the day he came home from war to find his house empty and his wife gone.
But he can't get Becca's request—or pretty much anything else about her—out of his head. What can it hurt, anyway? If it's awkward afterwards, they can just avoid each other. Right?
Becca Drake has turned her life around, and she's proud of how much butt she's kicking. The shy girl with the self-esteem problem has been shown the door, and New Becca's in the driver's seat. There's just one more demon she has to exorcise. Virginity is messing up her sex life. Guys who might be okay with giving her a test drive act like they're being auditioned for marriage when they find out she's never had intercourse.
Griff is the perfect candidate to do the deed: He's her friend, he's sexy as heck, and neither of them wants anything serious.
Then Becca's job goes belly up and she takes a temporary position at the veterans' retreat where Griff works. Now she and Griff can't stay out of each other's way—and their entanglement keeps getting messier—and sexier. Worst of all, it's getting harder and harder for Becca and Griff to lie to themselves about what they really want…