In Shock Heir for the King by Clare Connelly , Frankie always dreamed she would give her innocence to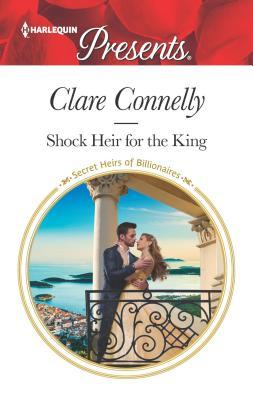 the man she married and that a fairy tale ending would shortly ensue. She was right about part of it. She does eventually end up marrying the first man she sleeps with, Matt, although the fairy tale ending requires some work–and time. It takes a couple of years of searching for him while raising his son on her own before Matt, or King Matthias as is his title now, reappears in her life. And offers her an ultimatum: marry him so he can claim his heir, or there will be hell to pay.
'There was no way on earth Matthias would ever let Leo go… If she wanted to be a part of her son's life, she had to accept Matthias as a part of hers.'
King Matthias never could get sensual Frankie, an American artist and breathtakingly beautiful woman out of his head since their steamy time together about three years ago. He knew it was the last time he would be able to choose who he spent time with before taking the throne. But now he has to see Frankie one more time before he chooses a woman to be his queen. Matthias had no idea that Frankie had given birth to his son, Leo. His heir! The news changes his life. And he knows the path he must now take, as well as how difficult a time it will be convincing Frankie of their future.
"He's your son," she continued quietly, lifting one hand to his chest and pressing it just above his heart.
And emotions flooded him–paternal pride, completeness, rightness–relief that it was this woman who'd borne him a son and heir.
Shock Heir for the King was an intense romance that had a bit of a Cinderella theme to it and was set on beautiful Greek islands that were the perfect backdrop for this couple's journey. And what a conflicted mess our hero and heroine were before they earned their HEA. The hero's heartbreaking backstory made for some major challenges before he could allow himself to show emotions, and the heroine had a chip on her shoulder over being steamrolled into marriage–and had her own issues with abandonment. Whew! Talk about complicated.
"Neither of us wanted this, but that doesn't mean it can't be everything we want now, Frankie." Her name on his lips was a seduction, his promise a temptation that was almost impossible to resist.
I fell into this Harlequin quite easily thanks to author Clare Connelly's flowing style of writing. It certainly didn't hurt that we had both a Prologue and an Epilogue here, so I really felt like I got to know the characters and watched their romance come full circle. What I think I liked most was the dynamic between Frankie and Matthias. They were both strong-willed and thought they were doing the right thing after Frankie got pregnant and Matt found out later on, which led to animosity, lack of communication at times, a stalemate of sorts, and a fiery connection that was simply palpable on the pages.
Matt and Frankie really did have their son Leo's best interest in mind. The interesting part was seeing how those ideals matched up and how they compromised to make it work in the end. Which they definitely did. Connelly took this even further and wrapped this romance up with a peek into Matt and Frankie's future and all the bliss they finally achieved. *dreamy sigh* I certainly would recommend this to any fan of Harlequin Presents or readers who love to watch the fireworks between characters during a battle of wills. (And there were many such battles with these two!).
Book Info:

Publication: Published May 21st 2019 | Harlequin Presents |
Cinderella had his baby…
Now she'll wear his crown
Vibrant artist Frankie is shocked when Matt, the enigmatic stranger she gave her innocence to, reappears in her life. His touch was intensely sensual, his kiss pure magic…yet their affair had consequences, and Frankie had no way to contact him. Now she's in for the biggest shock of all—Matt is actually King Matthias! And to claim his heir, he demands Frankie become his queen!
Explore the king's Mediterranean palace with his royal bride