Holiday Hookup by Jamie K. Schmidt is a sexy vacation themed romance for an overworked, over-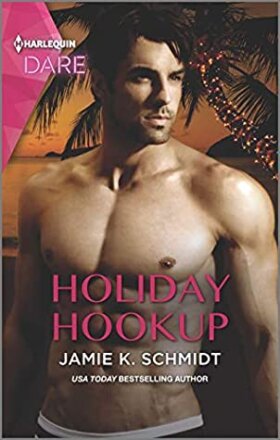 stressed executive and the chef hired for his relaxation retreat.
Blaine Stephens doesn't want to be in Maui at a wellness resort but his family has sent him there for his own health after a failed technical demo led to a stress related collapse. Resigned to making the best of things despite no internet and phone access, the bright spot is personal chef Serena Thompson, whose culinary delights surprise him. Not only that, but there is definitely a spark of attraction. A holiday fling might be just the ticket to kick him out of his doldrums, plus Serena is definitely on board as she is already thinking about leaving her job after this assignment and moving on to her plans to study more cooking in Paris. Can their holiday affair lead to something more?
I'm enjoying this loosely connected series by the author that started with Wild Wedding Hookup, where Serena was introduced as a secondary character. The heroine of that book, Mikelina, is still working as a concierge and she plays a small role here too, so the friendship between the two women is front and center as Serena indulges herself in some personal time with her client.
Blaine is impressed with Serena's ability to take his favorite foods (think burgers and fries) and make them into healthy alternatives that are still really tasty. He's attracted to her from their first meeting and though Serena knows she could get in trouble for sleeping with a client, Blaine is really hard to resist. They share some sexy scenes together and Blaine also invites Serena along on some of the adventures that Mikelina has set up for him as part of his retreat. We get a nice vacationers view of Maui and some of the exciting Hawaiian outings available.
Blaine has a hard time letting go of work completely and convinces Serena to help him get some internet time by lending him her phone. This leads to a confrontation with her boss and some challenges for both of them to face on their way to a happy ending. Serena's long term goals are supported by Blaine and we get a nice epilogue that shows the couple enjoying their HEA. I love a good vacation themed romance and this one is very enjoyable.

Book Info:

Publication: Oct 01, 2020 | Harlequin Dare |
To slow his all-work-and-no-play pace, Blaine Stephens's family thought two weeks at a wellness resort in Maui would be the perfect Christmas present. But chowing down on tofu and navel-gazing is the workaholic software engineer's version of hell. Until gorgeous brunette Selena Thompson greets him in her figure-hugging chef's coat…
Most people would kill for two weeks of sun, sand, and relaxation. But most people don't have a pilot project that's going down the tubes along with a media leak showing his driverless car mowing down a dog and an old lady—even if it was just a simulation. Maybe a naked soak in his penthouse hot tub would do Blaine some good…especially if the delicious chef joins him.
Despite the resort's no-fraternization policy, Serena's looking at him like she wants him to be her next meal. And soon they're exploring every decadent pleasure the resort has to offer. In two weeks, Selena will move to France, and he'll be back at work trying to salvage his project. But Blaine can't help wishing this holiday hookup didn't have to end.