In Pride & Papercuts (The Austens #5) by Staci Hart, Laney Bennet has certainly heard of ad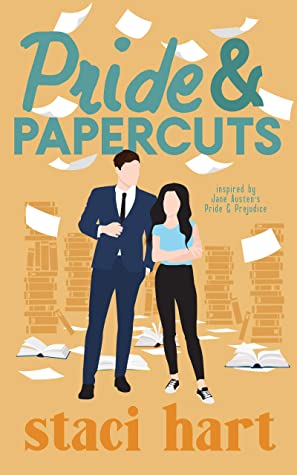 executive Liam Darcy's abhorrent workplace persona. She just never thought she'd have to deal with him one on one. When the company she and her twin brother Jett work for, Wasted Words, a bookstore-slash-bar in NYC, hires Darcy's company to do an ad campaign, Laney is the liaison between the two companies. And just like she figured, she and Darcy do *not* hit it off well. He might be all broody and with more good looks than he deserves. But his snobby attitude–as well as the way he ignores her brilliant ideas–drives Laney mad.
'No one in this world made me so angry as Liam Darcy. Nothing confused and upset me like the presence of a man who could kiss me and insult me in the same breath.'
Working with Laney Bennet is slowly driving Liam insane. He's never had to work so hard to keep his temper in check as he does every time she lets her (many) opinions on the project loose. If it wasn't for his younger sister Georgie smoothing things over, Liam would probably have had it out with the lovely spitfire already. And he has to admit she truly is lovely. And smart, smart-mouthed…and utterly fearless. If the circumstances were different, Liam wonders if he would pursue Laney. If their families didn't have bad blood between them and they weren't colleagues. But with everything standing in their way and the weight of a corporation on his shoulders, romance is the last thing that should be on Liam's mind.
I watched her. "You're not at all afraid of me."
"Why should I be afraid of you? Your height or your strength? Because you have authority? Power? Or because you're unbearably rude? You're imposing, Mr. Darcy, but no. I'm not afraid of you."
Pride & Papercuts was a delight to read from beginning to end. It had all the sweeping romance and delicious tension of Pride & Prejudice, yet it also had the perfect amount of modern touches to make this story stand on its own.
"If you always love me this fiercely, you will never lose me."
"Until my last breath. There's no other way to love you."
I am seriously in love with the Bennets and Darcy–again! Staci Hart charmed me right from page one with the spin she put on the Austen classic, keeping the same emotions and similar struggles between characters but setting it in modern NYC. The Bennet family was probably the biggest change but it completely worked. Laney was the only female sibling, the rest all strapping guys who loved to equally pick on her and protect her. The parents, though, were very similar to the personalities in the original. Although I liked *this* Mrs Bennet a whole lot more!
Laney and Jett were twins, the eldest of the Bennet siblings, the only ones to not work for the family business–and the only ones to have not found their love matches yet. I can say without giving too much of the story away that they did indeed both have HEAs and in the most gorgeous, romantic way possible. We had workplace enemies Laney and Liam Darcy, whose bantering was to die for; and a forbidden romance between smitten Jett and Georgie, who was Liam's younger sister. The two love stories were so very different, fitting the couples to a T. Where Laney and Darcy bickered and were all wrapped up in denying their incredible chemistry, Jett and Georgie were tender and as sweet as they could possibly be. Sigh…
I loved the touches Hart included with bringing a couple of Regency events to Wasted Words, the bookstore/bar where Laney and Jett worked, so everyone was all dressed up in their finery. And we also had other characters woven in from the classic, including Caroline, Wickham, and even Catherine de Bourgh. Yes, they were all as conniving and elitist as their predecessors! (lol)
Staci Hart's smartly-written retelling was everything I had hoped for and oh so much more. Enemies to lovers, families warring against each other, *two* office romances, and lively banter. What else could a Pride & Prejudice fan hope for, right? Highly recommended.
Book Info:

Publication: Published October 13th 2020 | Pub: Staci Hart | The Austens #5
Hate is a strong word.
Depending on the company, loathe is a good substitute. Abhor might be a little fancy, but it gets the job done. But the word that really sums up how I feel about Liam Darcy is, without question, hate.
He doesn't seem to think much of me either. The second he lays his fault-seeking eyes on me, he sets out to oppose me. Everything about him is imposing, as if he consumes the nearby air to power the rise and fall of his broad chest, and it's clear he resents my presence on his advertising team. Every idea I have is shot down. Every olive branch I offer is set on fire by nothing more than the blistering coals he calls eyes.
In return, I light him up with my words.
It's not as if he can dismiss me, since I work for his client, Wasted Words. Instead, he's forced to tolerate me, which seems the closest we'll ever be to friends. Fine by me.
I can be civil and still hate Liam Darcy.
But if there's more to him than his exterior shows, I won't be able to hate him at all.
I might stumble over that line between love and hate and fall right into his arms.