Holiday Kisses: A Holiday Romance Collection by by Alison Kent, Jaci Burton, HelenKay Dimon, Shannon Stacey.
It's Beginning to Look a Lot like…Love!
This Time Next Year by Alison Kent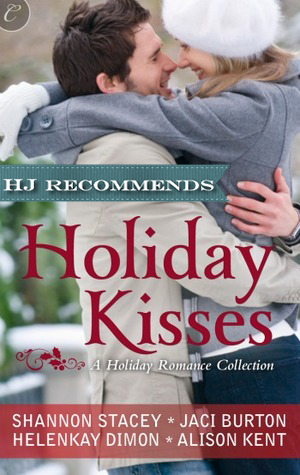 Brenna Keating is going back home for Christmas to spend the hokdays with her Grandmother before she takes a job working in underprivliged countries bring medical help to those who cannot afford it. While on her way to her grandmothers, a blizzard hits and her car skids off the road stranding her in a snowbank. Just when she thinks that she is going to freeze to death, along comes a hot, sexy stranger to her rescue.
Dillon Craig should not have even been out this way, but after leaving Brenna's Grandmonther and knowing that she was late to show up, he decided to take the long way home and comes to her rescue. Dillon is a doctor, war hero and a man plaged by the horrors of what he experinced and the guilt that he was not there for his father when he died. Brenna is feeling guilty at the thought of leaving her grandmother, wondering if she is making the right choice leaving for another country.
What I loved the most about these two are that they were true kindered souls. Both fighting guilt, both questioning the decisions that they are making, have made, will make. What I loved most about Brenna and Dillon is that they understand each other, are able to share their fears, doubts, hopes, dreams and they each help the other heal. This is a really sweet holiday book for anyone looking for a sweet and loving HEA.
Rating: 5 Stars
A Rare Gift by Jaci Burton
Calliope Andrews needs work done on her daycare facility so who better to call than her ex-brother-in-law Wyatt Kent. Calliope has has a crush on Wyatt forever and given that he was once married to her older sister, she knows that she has an uphill battle on her hands, but she is determained to get Wyatt to notice her and realize that she is, and has always been the right woman for him.
Wyatt wants nothing to do with Calliope at first. She is he ex-wifes little sister, sure she has grown into a beautiful, breathtaking woman who makes his heart stop and ties his tongue, but he is afraid to get close to her thinking that Calliope and Cassandra are exactly the same. Until he makes peace with the past, and understands that Calliope is nothing like Cassandra, he might miss the rare gift that is the woman that is ment for him.
Can I tell you how much I loved this story? I really felt like the characters had time to circle around each other. I didn't feel like their romantic progression was rushed. And can I just tell you how cute this romantic progression is? Calliope is a quirky girl who knows what she wants and sets out to get him. The potential awkwardness that could result from a woman dating her sister's ex-husband is dispersed by Calliope's enthusiasm. Just watching Wyatt's bear-like nature melt under Calliope's love and attention was lovely Too cute. I wanted to eat this story up. It was so good.
Rating: 5 Stars
It's Not Christmas Without You by HelenKay Dimon
Carrie Anders and Austin Thomas were childhood sweethearts. Carrie had officially broken up with Austin to go after her dream job in the city six months ago. It is not that Carrie does not love Autstin, she loves him more than she has ever loved anyone, but she is afraid that he will never allow her to follow her dream and she does not want to live with the regret.
Austin heard that Carrie wasn't coming to town for the Holidays so he decided to follow her to the city to change her mind. To do this, he opens a Christmas Tree lot directly across the street from her apartment. Austin knows that Carrie want to live her dream, he does not want to hold her back, but he wants her to realize that no matter how far away from each other that they are, they are always connected. He would give up anything for Carrie, he just needs her to realize that they are ment to be together.
The passion and love these two have for each other is evident. The two had to both grow up and recognize that in order for their relationship to work and survive, they must learn the art of compromise.This is a heartwarming holiday story that will having you believing in a once in a lifetime kind of love.
Rating: 5 Stars
Mistletoe and Margaritas by Shannon Stacey
Justin McCormick has been in love with Claire Rutledge for over 7 years. But his best friend was the one who made the move first and married her. So Justin had to hide his feeling for Claire . Then the unexpected happended and two years ago Claires' husband is killed in accident. After that, Justin has been there for Claire, helping her get through it and being her best friend. But it's so hard to love and lust and have to hide how he really feels.
Claire still believes in love. She wants to find love again, so when she starts having dreams about Justin, one night after a few margaritas, they act on the feelings that they have both been trying to hide. Not knowing what to do next these best friends need to try and learn to leave the past behind and allow love back in.
I thought they were perfect together. I loved everything about this book, these characters and this story. It is a true friends to lovers book with an sweet HEA.
Rating: 5 Stars
Book Info

HJ Recommends
Publisher: Carina Press (December 5, 2011)
A man gives the gift of trust and receives a second chance at love in return. A woman helps to heal the wounded heart of a soldier. A couple finds that true love knows no distance. And a young widow learns that there can be two great loves in a lifetime. Love, romance and passion come together in this collection of four seasonal shorts.
Anthology includes:
This Time Next Year by Alison Kent
A Rare Gift by Jaci Burton
It's Not Christmas Without You by HelenKay Dimon
Mistletoe and Margaritas by Shannon Stacey