In Hitched (Roman Holiday #2) by Ruthie Knox, Roman has hitched Ashley's old trailer to his brand new Escalade and is taking her to her destination. Only he is not happy that she won't tell him where they are going before they finish evacuation, all she tells him is that he will need to refuel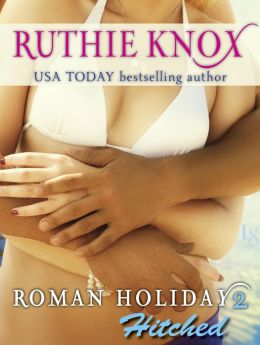 before leaving.
Only he soon finds out where she is taking him and he is not happy about having to drive Ashley all the way to Georgia but he will not break his word. He plans to drive her there and then be on his way.
As he spends time with Ashley he can't help but want to know more about her and her odd ways. She is stubborn but she knows that she is in over her head, and she needs her friend's help to change Roman's plans and convince him to leave her grandmother's old place the way she loves it.
Only as she spends time with Roman she also starts seeing another side to him that he doesn't show everyone. So Ashley makes it a point to bother him as often as possible each and every time she can to try and get that other side of him to show up. But arriving at the swamps in Georgia will only make things more complicated for them both in more ways than one.
This serial only gets better and better, can't wait to find out what happens next and find out how Ashley will try to convince Roman to see things her way.
Book Info:


November 18th 2013 by Loveswept | Series: Roman Holiday #2
Ruthie Knox's eBook original serial, Roman Holiday, continues in Episode 2, as Ashley and Roman flee an oncoming hurricane by hitting the highway—only to encounter some outrageous bumps in the road.
Roman Díaz isn't thrilled about being forced to evacuate Ashley Bowman from the Florida Keys—and that's before he sees the decrepit Airstream trailer she wants to hook up to his shiny new Escalade.
Ashley's in way over her head, and the only way she knows to beat Roman is to get some help from a friend . . . in Georgia. She can put up with Roman's fury at the unexpected detour, no problem. It's the bizarre thrum of attraction between them that she could do without. And yet there's something about being hitched to Roman that makes Ashley never want to let go.