Hollywood Prince by Natasha Madison: Erin is about to have the job of her dreams, if only she can succeed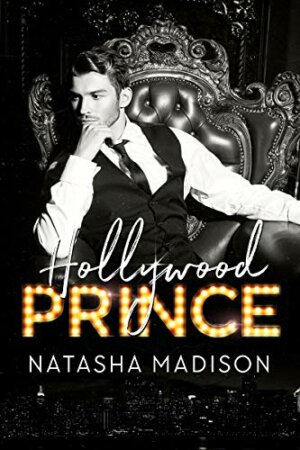 where no one else has. She's smart, savvy, charming, personable, and a hard-worker. She's earned her place as an intern and earned the respect of all her co-workers and demanding boss. She seems to make friends everywhere she goes, even in a cutthroat place like Hollywood.
Carter is star and has been since he started acting as a kid. He's spent most of his life in the business and he has a sterling reputation in terms of his work on the set, but off the set is another matter entirely. He goes out just about every night and is always pictured with a new woman on his arm…and sometimes two in a single day. He's sexy and too charming for his own good, but he's learned not to trust anyone outside of his manager.
Carter is preparing for a role that will show his skills outside of action movies, but it's all in jeopardy with the way he doesn't even attempt to ever change his playboy image. If he wants this contract, he's going to have to clean up his image, at Erin's direction, and agree to be celibate. Erin and Carter get off to a rocky start when he immediately hits on her.
"If I told you to stay, you would, wouldn't you?" I ask her the question.
"Well, yeah," she says, coming in and sitting on the bed next to me. "Isn't that what friends do?"
"I don't know. Never had any real friends," I tell her the truth. "I've only had Hollywood friends."
Erin isn't like other women. She calls him on his crap, doesn't fall for his charm, and wants him to be more than just his Hollywood persona. Carter isn't always receptive to her ideas, but he has too much on the line to not fall in line. Both struggle with the attraction they feel, especially as they push each other outside their own comfort zones. Erin gets to see another side to the cocky actor and he wants to be better for her.
"I can walk," I tell him, my voice coming out in a whisper.
"It's okay,' he says, his voice is soft also. "This is the most action I've had in a week. Let me have this moment."
"If you try to cop a feel, I'm going to kick you in your junk," I mumble to him, and then I'm placed so softly on the bed I don't even feel it.
Hollywood Prince is a sexy rollercoaster as opposites attract. Natasha Madison delivers banter, anticipation, heat, heartbreak, and plenty of surprises. Ms. Madison provided an engaging cast of characters with a sexy forbidden romance. Hollywood Prince can be read as a standalone in the Hollywood Royalty series. Fans of Katy Evans, Kim Karr, and K. Bromberg will enjoy Hollywood Prince.
Book Info:

Publication: Published April 2nd 2019 | Pub: Natasha Madison | Hollywood Royalty #3
Behind the "lights, camera, action" of Hollywood lies a world of deception, love, and seduction.
Are you ready for Hollywood Royalty?
Carter
A blonde, a brunette, a redhead…he can have his pick of them all on any given night and he knows it. They wait, hoping he looks up and gives them his signature smirk, choosing them over the others because that's his game.
Except now he's signed the contract of a lifetime, one with a pesky little clause that says his zipper must stay up and his playboy image has got to tamp down. It'll be fine—a piece of cake, even—he can do this and he's almost convinced himself of that … and then she walks in the room
The new PR girl whom they've hired to change his image, she's the star of all his dreams, but there's one tiny little problem … she can't stand him and all of his player ways.
He knows he only has thirty days to show her why they call him Hollywood's Prince. He's up for the challenge, so game on.