Hollywood Princess by Natasha Madison: Kellie is a sweet and sassy Southern girl who just so happened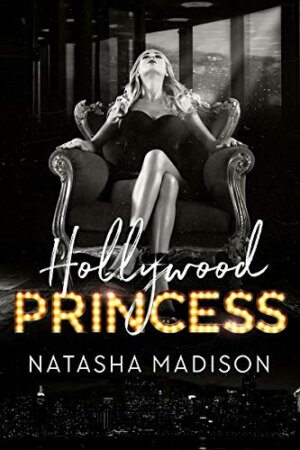 to make it big with her amazing voice. She's still somewhat down-to-earth while she's grown accustomed to dealing with the fame, money, crazy fans, and paparazzi that surround her. She's grateful for her success and she definitely puts in the time to stay on top of her career.
Brian is former military and now working in private security. He's handsome, sexy, protective, and always professional. He will challenge his clients to ensure they take their own safety as seriously as he does. He does what's necessary to keep his clients safe and lives by the rule of never getting involved with anyone he's protecting.
Kellie is excited for her upcoming tour. The tour promises to be fun, hard work, and grueling with long days, lots of travel, and few breaks. And then she gets the news that Brian was hired on as her personal bodyguard and shadow. Brian has guarded Kellie before, but there's the not so minor problem of her hitting on him and his rejection.
He doesn't answer; he just throws back his head and laughs. "How about this? I call you babe when you don't listen."
"How about this," I counter, "you call me babe again, and you can sleep with one eye open."
"You're cute when you're angry."
The real problem is that both are attracted to each other and easily get under each other's skin. Brian is bound by his own personal code, but Kellie doesn't make it easy to resist her. They are pretty much constant companions, sometimes willingly and sometimes unwillingly, and they get to see another side of each other. They banter, challenge and provoke each other as they grow closer and the tension builds over the tour.
"I don't care who you flirt with," I tell him, and it tastes like battery acid in my mouth. Not that I know what battery acid tastes like, but I'm sure it's just like this. "I don't care what you do or who do it with. Just as I'm sure you don't care what or who I do." I glare at him. "Right?"
"Right." He hisses out the words.
Hollywood Princess has heat, banter, mystery, and surprises. Natasha Madison created plenty of tension in this slow-ish burn, bodyguard romance. Ms. Madison continues to create and develop interesting characters in this series of standalones. Fans of Katy Evans and C.D. Reiss will enjoy Hollywood Princess.

Book Info:

Publication: February 26th 2019 | Pub: Natasha Madison | Hollywood Royalty #2
Behind the "lights, camera, action" of Hollywood lies a world of deception, love, and seduction.
Are you ready for Hollywood Royalty?
Kellie
An Oscar, a Tony, an Emmy, a Grammy—she has them all.
She's the most sought-after woman in Hollywood.
Even if her rise to fame was a fluke, you can't deny the camera loves her.
The problem is, so does everyone else, and she's about to leave on the biggest concert tour of her life.
Headlining for the first time in five years.
Around the world in ninety days. Should be a piece of cake.
Until her new security detail walks in the room and she's looking into the eyes of the only man who didn't fall for her charm.
It's only a matter of time until he falls for Hollywood's Princess.