Hollywood Temptation by Scarlet Wilson: Selena Harris is a smart, sexy, independent woman going through a really rough time. Her six figure, high powered job was downsized, so she picked herself up and moved across the country to seek employment and a new life. As time goes by, she meets Mark, a nice guy and they move in together. Selena, usually a careful spender, is having the time of her life in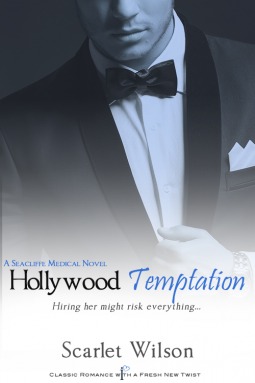 Los Angeles. She is spending all of her savings, maxing out her credit cards, and even spending Mark's money on high-end clothes, shoes and jewelry, without a job prospect in site. Needless to say, Mark kicks her and her clothes out and she is left homeless and penniless.
Carting all of her belongings in a soon to be repossessed car, Selena ends up at the Seacliffe Cosmetic Surgery clinic, a plastic surgery resort for the rich and famous. Her forehead needs some stitches because her shoe clocked her in the head when Mark threw it from the window. Her physician, the gorgeous and talented Dr. Colt Travers takes care of her. Unfortunately, Selena has no money to pay her bill, so Colt agrees to let her work it off, since he just fired the clinic's receptionist for divulging private information about the celebrity's that are having some work done.
Colt and Selena have instant chemistry, both in the workplace and in the bedroom. With every touch and caress, they both feel sizzling heat. They decide to keep their lustful feelings to themselves, while Selena is a patient and a temporary employee. Of course life for Selena is more than crazy, secretly living on the premises since she is homeless. However, she is paying down her debt to the clinic and to Mark. She is also using her MBA education to figure out the inaccuracies of the clinic's accounts.
I liked this story, especially the first half. There are lots of crazy happenings at the clinic that cause the staff a ton of angst and indigestion. An employee with a big mouth is leaking information to the press and as a result, the clinic's client base is dwindling. The pro bono work the plastic surgeons are providing to the needy may have to end if the clinic is to survive. Colt finds out that Selena is living at the clinic, invites her to stay with him and ends up not trusting her. Luckily, that works it self out and Selena and Colt have a future together.
Although I have my suspicions, the person responsible for feeding the press is not revealed. So the story ends with a bit of a cliffhanger. I would have enjoyed the book even more if there was a little more spice between Selena and Colt. I am hopeful that this is not the last we have heard about the goings on at Seacliffe Cosmetic Surgery.
Book Info:

Published March 6th 2014 by Entangled
Hollywood surgeon Colt Travers needs a new receptionist ASAP. When the adorable—and completely broke—Selena Harris comes in needing stitches, he takes a risk and hires her on the spot. She can pay off her bill, and he won't have to answer the phone anymore. They're opposites in every way, and she's exactly what he doesn't want in a woman—impulsive, carefree, and amusing. He's trying to resist her, but the longer she's around, the further he sinks into temptation.
Selena never meant to get herself in such deep financial straits. LA has way too much temptation, from high-end shopping to gorgeous men, and now her life is in chaos. But Colt is different—responsible and noble—and although their chemistry is off the charts, he's keeping her at arm's length. She's determined to win his trust–and his heart–but will the secrets she's desperately trying to hide ruin their chance for a big Hollywood happy ending?