Home Again: This is the first Shirlee McCoy novel I've read, but if this book is any indication, I'd say this series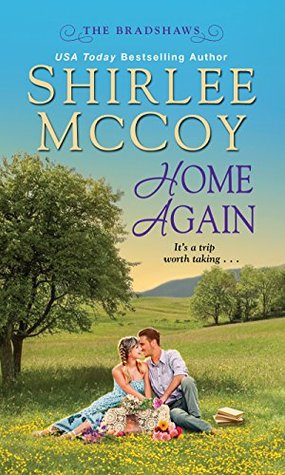 is in my wheelhouse.
The story is centered around Porter, who just lost his brother in a tragic accident, while his sister-in-law, Sunday, lies in a coma, leaving her children in need of parental guidance and care.
Clementine was headed home to Seattle hoping for a fresh start after a humiliating and painful divorce. But, after Sunday's car accident, Clementine puts her own life on hold to work on her old friend and former neighbor's farm.
Eventually, Porter and Clementine cross paths, forging a bond as they make decisions about the farm and Sunday's children.
"The Problem with chasing dreams is that sometimes they let you catch them."
I read this book in one sitting. It grabbed my attention immediately and charmed my socks off. What a sweet story! It's not saccharine sweet, mind you, because there are plenty of emotions floating around and serious life choices to make, but the tone is never too heavy or maudlin.
The pacing is just right for a realistic romance to develop, as well as the right amount of space for character growth. Clementine's issues with her ex-husband are front and center, while Porter adjusts to a different life and being responsible for children, something he has absolutely no experience with. Porter may not have wanted to return home, but he just might find it's where he belongs, after all. But, will Clementine continue to stay at the farm, or will she leave to chase her dreams in the big city?
Are you a fan of sweet, small town contemporary romance? If you are, then this is the perfect series for you, and you won't want to miss it!!
Book Info:

Publication: 10/30/18 | Zebra | The Bradshaw's #2
For the Bradshaw brothers, coming back to their hometown is the last thing they wanted. But to cope with family tragedy, they're reuniting in Benevolence, Washington—a place of hope, caring, and ever-surprising love . . .
It's ex-Navy SEAL Porter Bradshaw's toughest challenge ever—six grieving nieces and nephews. With his brother, Matthias, killed in a car crash, and his sister-in-law, Sunday, hospitalized, Porter must take his turn looking after their children and the ancestral farm. He doesn't know much about parenting. Still, Porter is used to going it alone professionally—and personally. But warm-hearted teacher Clementine Warren is a complication he can't resist . . .
For Clementine, Benevolence is where her hopes for a real home and family crashed and burned. But as Sunday's friend and former neighbor, she promised to always be there for the children. And as she and Porter work to comfort the young Bradshaws, his sense of duty and passionate commitment are rekindling more than Clementine's dreams. Now with trouble coming, she'll face down her fears to prove to Porter, and herself, that together they can make a future full of love . . .