In A Moment on the Lips (Whistle Stop Romance #3) by Jennifer Faye, used to her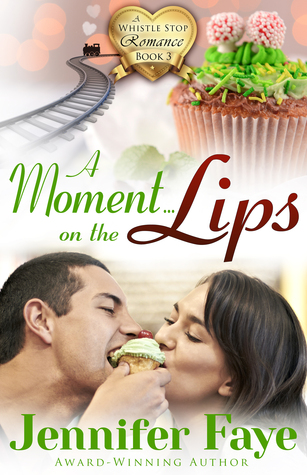 mother passing judgment on her appearance, Piper Noble is pleasantly surprised when a potential customer comes into her bakery and tells her mother she couldn't be more wrong. Ecstatic by his opinion, she soon finds her jubilance waning after learning he's not a customer, but the new owner of the vacant shop next door. A shop she was looking to buy to expand her bakery.
"By the way, I disagree." The stranger spoke in deep, rich tones.
Confused, Piper faced the man again. "Excuse me?"
"I think you're pretty just the way you are." His voice was noticeably raised – loud enough for her mother to hear.
Returning to Whistle Stop isn't easy for Joe Montoya, since all the town holds for him are painful memories he'd rather keep buried. Yet, he's back in his hometown, determined to start over after his marriage ended disastrously. Meeting the owner of the bakery next door to where he plans to open a coffee shop was supposed to be a simple friendly meet-and-greet. But instead, they end up butting heads over his purchase of the shop, and then soon after he finds himself paired with Piper to organize activities to help fund-raise the town's revitalization project.
A Moment on the Lips is the first book I've read by Ms. Faye, yet it won't be my last. It's a story encompassing the second chances trope. In addition to being incredibly sweet and fast-paced with dialogue so entertaining, I could not put it down once I started. Since Joe and Piper are equally as stubborn, and unwilling to compromise until absolutely necessary when it comes to their organizing the activities for the fundraiser.
She planted her elbows on the table and leaned forward. "And if your name just happened to show up on the list of volunteers for the dunking booth—"
His eyes flared. "Don't you dare."
She couldn't help but smile. "You know life is way too short to be sooo cautious. Sometimes you've just got to learn to laugh at yourself in spite of it all."
Piper made a mental note to add his name to the dunking booth list. She was certain he'd spy it before the festival. It'd be a fun gag. And who knows? Once he spotted it, he might actually change his mind about participating. Stranger things had been known to happen.
I absolutely loved Piper and Joe. They're an amazing couple. Both have been burned by a past relationship which makes it hard for them to trust. Especially Joe, because his ex-wife did a real number on him. Making him wonder — at first — if any advice Piper gives him or any act of kindness she shows him comes with ulterior motives. However, she's nothing like his ex. She's benevolent, which is illustrated in what she does for her ex and his bride to be. She's also very inquisitive when it comes to getting to know Joe, by pushing him with her questions to get him to open up. Determined to get him to tell her why he left Whistle Stop and why he's returned. Yet, there were instances when I felt sorry for Piper, and kept thinking 'with a mother like hers who needs enemies'. A mother that is more concerned about appearances than her daughter's feelings.
While Joe, his back story was heartbreaking, and it's why he's so protective of his mother now, as they didn't have the easiest of times with his father. He's also very determined to fit in, because it seems the townsfolk have condemned him for leaving town when he did years ago, even though he had a very good reason for why he left. Yet, what I liked most about the hero was this scene with Mrs. Sanchez, because if it wasn't for her meddling, things might not have worked out so well for him and Piper.
"I'll do it, but can you do me a favor?"
The woman's penciled brow lifted. "What did you have in mind?"
"Could you make sure Piper is near the dunking booth when I'm in there?"
The woman's eyes twinkled with delight. "I knew not to give up on you two. When people are right for each other, nothing can keep them apart. You can count on me. I love playing matchmaker."
Overall, I thought this was a really good read, and I loved how it ended with the way Joe wins Piper back and his pronouncement to Piper's mother. It was memorable, and proves how much he loves the heroine. I would highly recommend A Moment on the Lips by Jennifer Faye, especially if you enjoy sweet reads with great characters, well-written dialogue and second chances.
Book Info:

Publication: October 12th, 2015 | Lazy Dazy Press | Whistle Stop Romance #3
Welcome to Autumn Fest…sweet treats, entertaining company, and a tender romance.
Piper Noble feels like she's going places. Her business, the Poppin' Fresh Bakery, is a culinary success story. Next on her to-do list is expanding the bakery into the vacant shop next door…and starting a new diet, like her mom keeps nagging her to. But when Joe Montoya steps into her life, her grand plans grind to a sudden halt.
Joe's taken a big risk returning to Whistle Stop. But with his disastrous marriage over, it's time for a fresh start, including opening a coffee shop…and coming to terms with his troubled past. Though his neighbor Piper looks like she'll be a big distraction in getting Fill-It-Up Joe off the ground–with her honeyed smile, curvy goodness, and her unflagging determination to grab his storefront.
However, when Piper and Joe are elected as co-chairs of a fundraising committee to help the town's revitalization project, the hostilities must cease. Joe's not sure about spending time with a woman who, one moment, reminds him of all the good things he's been missing, and the next minute drives him up a wall with her stubbornness. Meanwhile, Piper's looking for the way to this gorgeous but grouchy guy's heart–maybe serving him one of her fresh-from-the-oven pastries could be just the right start…