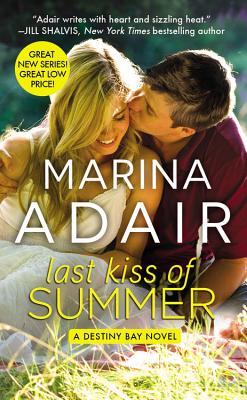 Last Kiss of Summer by Marina Adair is filled with delightful banter, sweet gestures, and charming characters that will warm your way into your heart and stay there, long after their story has ended.
When Kennedy Sinclair's life blows up before her eyes, she takes her grandmother's advice and moves to Destiny Bay and buys into a pie shop and orchard. The pies are legendary and Kennedy plans to continue their success, but the owner's son, Luke, has some other ideas. He needs the apples that are attached to the orchard for his cider business and when Kennedy doesn't budge, he gets creative.
Luke Callahan is a good guy at heart but his relationships with women are usually fleeting. Once the challenge is over, he's out, but with Kennedy, it's a whole new experience. Kennedy is different than other women. She's strong, determined, and is out to make the best of her new situation. The attraction between Luke and Kennedy is instant and builds throughout the book.
"Remember when I said not to mistake my ambition for apathy. Well, promise me that you won't mistake a good moment for a good guy."

"Because they don't exist?" she whispered, wanting desperately to believe they did.

"Oh, they exist," he said, "and I'm one of them. But when it comes to you, I don't think I can be good enough."
Kennedy and Luke learn to let their guard down in front of each other and it doesn't take long for their relationship to blossom into love. The only problem with that, is that Luke still needs her to fail and he will do anything to make sure that happens. But what happens when Luke sells Kennedy out and tries to ruin her chances at a contract, will she ever forgive him?
I really enjoyed Last Kiss of Summer and would definitely read it again. The writing is great and so easy to follow. It did take me a little bit to get into the story, but once Kennedy moved to Destiny Bay, everything picked up and I couldn't read it fast enough. Overall, highly recommended recommended and to those readers who favor contemporary romance, this is a winning pick!

Book Info:

 August 30th 2016 | Forever | Destiny Bay #1
He's one bad apple she just can't resist . . .
Kennedy Sinclair never dreamed she'd own a pie shop and an orchard in a small town like Destiny Bay. But nestled between the mountains and the Pacific Ocean, it's the perfect place to cross something off her "Life's short so eat the icing first" list and start her life over from scratch. Her shop, Sweetie Pies, is famous for its hot, flaky apple turnovers and sinfully delicious deep dish pie. For Kennedy though, nothing is more enticing than the tall, strapping slice of temptation who keeps coming back for more.
Luke Callahan is determined to make his hard cider business a success. With his beloved father's cider recipe and the opportunity of a lifetime in his grasp, he'll stop at nothing to get this deal done. There's just one catch: he needs Kennedy's apples. At first, he thinks it'll be as easy as pie to charm those apples right off her trees. But Kennedy isn't falling for his tender charms or his wicked ways. When the negotiations start heating up, so do the feelings they have for each other. And it takes just one kiss to seal the deal . . .