Honor Avenged by Tonya Burrows is the sixth book in the Hornet series. After sharing a kiss with his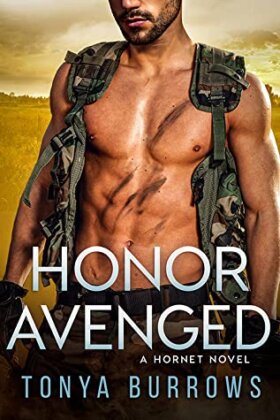 best friend's wife the night of his funeral, Hornet operative Marcus Deangelo takes off, leaving the team and Leah behind.
Single mother Leah Giancarelli is trying to hold it together after the murder of her husband, Danny, whose death she blames on Hornet. But when danger comes knocking on her door, she has no choice but to turn to Marcus, the only other man she has had feelings for besides her husband. Putting her trust in Marcus means putting her trust in Hornet. Will they be able to figure out who's after Leah before it's too late?
I'll start by saying this is the sixth book in the series, and I haven't read the previous books. While it can be read as a standalone, I felt like I was missing some background into the members of Hornet, as well as the event that took Danny's life. I'm not sure that was covered in another book, but it felt like it might have been.
I loved the action and suspense. I thought it was well-written; there was never a dull moment. I did have some issues with Marcus and Leah. Leah's constant distrust of Hornet was tiring. Danny was an FBI agent finishing up a case with Hornet when he was killed. I could somewhat see why she would connect them to his murder, but they weren't the people who actually killed him. When Marcus's mother wants to take the kids to Hornet's headquarters to keep them safe, Leah refuses. She knows that would be the safest place for them, yet she refuses because it's their headquarters. One would think she would want to have them in the safest place possible. Even when Hornet flies out to help the pair, she still wants nothing to do with them. At some points I was left shaking my head with how stubborn she was being.
Marcus has a tendency to run away from things. For being someone who works for an elite hostage rescue team, he certainly gets going when things get tough in his personal life. While I liked him as an operative, he could have used a little more backbone when it came to her personal life.
There's an interesting story brewing between Hornet operative Ian and Mercedes, who is a mercenary. Both have issues with another group called Defion. They have an interesting dynamic and I'm looking forward to seeing what happens between those two. Ian struggles with coming to terms with the fact that he does, in fact, care about his teammates, when he had claimed he had no feelings. He even goes as far as to try to make Marcus feel better by quoting a movie, which is something Marcus usually does for everyone else.
The romance is a bit overshadowed by all the action going on, but I didn't mind that. Honor Avenged is action packed, grabbing my attention from the first page and holding onto it until the last. If you enjoy romantic suspense, I would definitely recommend giving this book a read.
Book Info:

Publication: May 18, 2020 | Entangled: Amara | Hornet #6
Leah Giancarelli makes balancing her new role as a single mom look easy, but she'd have crumbled if not for her late husband's best friend, Marcus. She has her issues with HORNET, an elite hostage rescue team—after all, Danny would still be alive if he'd never accompanied them on their last mission—but Marcus has always been by her side, a strong shoulder to lean on…
Until, after one impulsive kiss, he's so much more.
Eaten alive by guilt, Marcus takes off, leaving both HORNET and Leah behind. Alone is easier. Safer. Because his feelings for Leah are all kinds of wrong, the worst kind of betrayal, and he can't trust himself not to act on them.
But Danny's death was only the beginning. Whoever hired the hitman is looking for something, and they think Leah knows where it is…