The Rakess by Scarlett Peckham is the first book in the new Society of Sirens series. The series is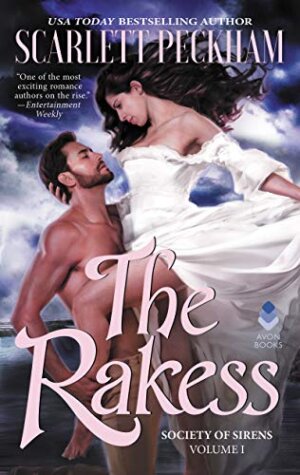 based on three scandalous women who were radicals and chose to use their shocking reputations to fight for women's rights. They were a female version of the male rake, having casual sex, and not wanting or making commitments to men. They had been hurt and ruined by men with power and those men now condemned them for their loose morals. The Sirens are dedicated to building an institution for women to be trained and educated, so using their talents and notorious reputations they are raising money and telling their story.
The storyline sounded interesting, but I wasn't sure how well it would work. Unfortunately, the first half of the book dragged, and I wanted to stop reading, but I stuck with it. The last half of the book moved faster and was more interesting so I'm glad I continued.
Seraphina "Sera" Arden had been ruined when she was younger by a man who had promised her the world. When she realized she was pregnant and contacted him, he denied it and ruined her reputation by starting rumors in their town. She was ostracized by everyone and her father wanted nothing to do with her. The man married Sera's best friend and suffered no consequences for his part in ruining her. She goes to London in disgrace where she has a miscarriage, but the damage was already done to her reputation. She promised herself to never become attached to another man. She keeps all men at a distance and if they start to show any attachment, she runs them off. To help the Sirens raise funds she is writing her memoirs and exposing the man who ruined her. She wants to use her past to show how men are never judged or bear consequences for their behavior, while women are shunned for the same behavior. She returns to her childhood home in Cornwall hoping it would help her writing. She is instantly attracted to Adam when she encounters him but when she first propositions him, he refuses. Their relationship grew but was very unstable and with all the memories she has come back to her, she turns to alcohol.
Adam Anderson is a widow with two young children trying to build his business as an architect. He is in Cornwall working on a project and hoping to win a bigger commission but to do that he needs to avoid scandal. He tries to deny his attraction to Sera but eventually, his feelings for her overwhelm him. Adam must decide if he can risk being with Sera and her reputation while taking care of his family and business.
I enjoyed the concept of the series, but I didn't care for Sera's character. I realize her past guided her behavior, but she was not a nice person. Instead of overcoming her past she stored up all her painful feelings and let them rule her life. Using her scandalous reputation to help the cause of women was her one redeeming quality. I loved Adam's character. He had such a big heart and tried to do the best he could for his children as a single parent. The choices he had to make were difficult. Overall I would say the book was 3.5 stars because it had nothing rememberable about it and I really had to struggle to finish it.
Book Info:

Publication: April 28th 2020 | Avon | Society of Sirens
Meet the SOCIETY OF SIRENS—three radical, libertine ladies determined to weaponize their scandalous reputations to fight for justice and the love they deserve…
She's a Rakess on a quest for women's rights…
Seraphina Arden's passions include equality, amorous affairs, and wild, wine-soaked nights. To raise funds for her cause, she's set to publish explosive memoirs exposing the powerful man who ruined her. Her ideals are her purpose, her friends are her family, and her paramours are forbidden to linger in the morning.
He's not looking for a summer lover…
Adam Anderson is a wholesome, handsome, widowed Scottish architect, with two young children, a business to protect, and an aversion to scandal. He could never, ever afford to fall for Seraphina. But her indecent proposal—one month, no strings, no future—proves too tempting for a man who strains to keep his passions buried with the losses of his past.
But one night changes everything…
What began as a fling soon forces them to confront painful secrets—and yearnings they thought they'd never have again. But when Seraphina discovers Adam's future depends on the man she's about to destroy, she must decide what to protect…her desire for justice, or her heart.