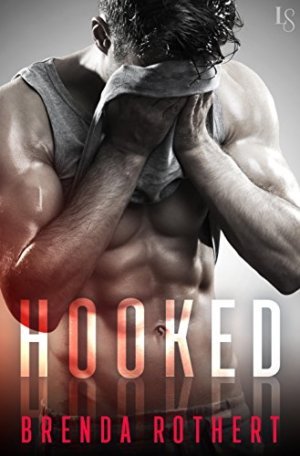 In Hooked by Brenda Rothert, Miranda is trying to put herself through school by working at bar at night and working as a maid during the day. When she's assigned to clean the penthouse suit, she meets Jake, a NHL player who she immediately dislikes because of his entitled attitude. Jake is attracted to her because she's not like the women he normally goes for. She, however, refuses his advances. Over time they strike up a friendship and eventual relationship, but when the secret Jake is keeping comes out, will Miranda want to stick around?
I really enjoyed this book. Miranda was strong and determined. Despite the fact she could lose her job, she doesn't hesitate to tell him off when she first meets him.
"Ah, so you're a man hater?" He leans a hip against the kitchen counter, the corners of his mouth tugging up in an amused smirk.
"Not at all. I'm an asshole hater. They just happen to be one and the same all too often."
The smirk disappears. "Are you calling me an asshole?"
I shrug, feeling myself slide closer and closer to being fired today. I've survived on Ramen noodles before, I can do it again. "You treated Brandi like crap and I sense you think the world revolves around you, so…yeah."
She also refuses all attempts Jake makes to pay for her education. She's determined to make it on her own without his help.
Jake has some issues. He's carrying around guilt over his brother's death four years earlier, which has caused him to alienate himself from his family. He has a crazy woman constantly harassing him, and it doesn't help when that woman is the owner of the hockey team he plays for. He's put in a difficult situation when it comes to her. There are times he comes across as a bit of a jerk, like when he yells at the interns when they mess up his pre-game rituals.
I open it and look up at him. "This is supposed to be cut diagonally."
The intern closes his eyes. "I didn't know."
"Do you care if we win tonight? You've completely fucked up my mojo not once now, but twice."
"Aw, lay off him, Birch," Tuck says. "Your mojo wasn't looking so hot before he got here."
Jake and Miranda are from opposite worlds, but they work together extremely well. Jake helps Miranda see that it's ok to accept some help sometimes, and Miranda helps Jake learn that it's ok to live life and move on. I recommend giving this book a read.
Book Info:

 December 6, 2016 | Loveswept |
Miranda: Even though I'm broke, putting myself through college, and working two jobs, I'm trying to make the best of it. Meanwhile, Jake Birch, hockey's hottest bad boy, lives in a luxury hotel in downtown Chicago—and still complains about every little thing in his penthouse. But after I tell him off, instead of getting me fired, Jake requests me as his personal housekeeper. Then he starts flirting with me. Only I'm not flirting back . . . at least, I'm trying not to. Did I mention that he's hockey's hottest bad boy?
Jake: I've met the best woman at the worst possible time. Miranda is the fire to my ice—a sexy, charmingly candid spark who breaks down my walls and reminds me what it's like to feel again. But I'm being forced to date my team owner's daughter to keep my job, so I can't be caught with Miranda. Still, we're getting closer—until Miranda finds out about my "girlfriend." And that's not the only secret I've been keeping. But Miranda's the one I want . . . even if she doesn't believe me.