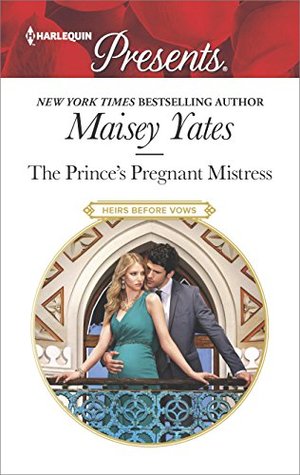 The Prince's Pregnant Mistress by Maisey Yates: The second story in the Heirs before Vows series sees the prince of a small European nation bound to the woman he dallied with but never expected to marry in this story of power and passion. Prince Raphael knew that his secret part time affair with waitress Bailey in the resort town of Vail was nothing to be taken seriously, though Bailey had dreams of something more. When he left her brokenhearted, with the intention of entering into an arranged marriage back home, she never expected she'd end up pregnant. Alone and unable to contact him, Bailey resolved to do her best to raise the child as a single mother. But three months into her pregnancy Raphael is back, his engagement broken and having been unable to dismiss Bailey from his mind. Discovering that she's pregnant, his plans of continuing their affair quickly morph into marriage, for he can't let his soon to be birthed heir grow up without a father. His duty to his country will always come before anything else though, and he makes it clear that he's doing this because it's the right thing to do and not because he loves her. Bailey can't deny that a life with Raphael will be better for their child than raising him alone. She's determined to make it a marriage in name only, having had her heart broken by him once already. But surrounded by luxury and seduced by Raphael back into his bed, her resolve falters. When she's willing to admit that she's fallen in love with him, will he tell her the same?
I really enjoyed this story! Bailey is an innocent and somewhat naive young woman, easily seduced by Raphael who, it must be admitted, is a bit of a cad at the beginning of the story. He hides his true identity from her and only shows up periodically to take her to bed. Bailey imagines a different future for them than he ever did and falls for his charms too easily. When he leaves her with the intention of never coming back, she grieves the loss of her dreams but must quickly come to terms with the reality of being pregnant. Then, when Raphael returns, everything happens so quickly. Raphael is quick to bring her back to his home country to be married. To Raphael's credit, once he had started sleeping with Bailey he didn't sleep with anyone else, including the woman he was engaged to as it was an engagement solely made for the purpose of connecting two powerful families. With that engagement broken, he was free to pursue Bailey again, and won't abandon her now that he knows she is carrying his child. Raphael is definitely an arrogant and commanding figure, but also one who grew up in a royal household that was lacking in love. His mother died when he was a teenager and his father made it clear that emotions were for the weak. Raphael has always gotten everything he wanted – except affection and acceptance for himself as a man and not just a royal prince. Bailey is a conundrum to him. He knows she's attracted to him, and isn't above using that to get what he wants, resulting in some steamy love scenes between them. But at the same time she is willing to defy him and speak her mind, something he just isn't used to. His efforts to impress her with lavish gifts do more to turn her away than entice her to him and this makes their initial days of marriage very tense. Gradually he realizes that if he wants to make their marriage a real one he is going to have to change his ways.He realizes in the nick of time that the feelings he has for Bailey, ones he's never felt for anyone else are love, and he sets about making things right. There is a lovely happy ending for the couple, one in which Bailey knows that this time she really has Raphael's heart, and a sweet epilogue. I look forward to reading more from this author!

Book Info:

 Nov 22, 2016 | Harlequin | Heirs Before Vows #2
"I. Am. Pregnant."
Three little words are all it takes to threaten Prince Raphael DeSantis's secret life of pleasurable hedonism, ruin the state of a nation and find him bound to a waitress.
To prevent yet another international incident following on the heels of his convenient—and very broken—engagement to a suitable princess, Raphael must now make his mistress his bride!
But heartsore Bailey Harper won't come willingly. This arrogant prince will have to use every provocative trick at his disposal to seduce her into submission—and return to his country with Bailey as his wife!