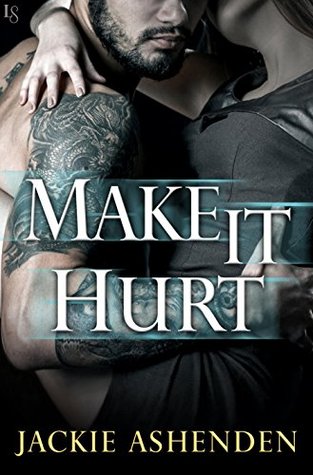 Make it Hurt by Jackie Ashenden delivers one heck of a ride. It's sexy, emotional, and completely addicting. I've read the first book in this series and thought that was good, but this one is so much better. For readers who haven't read the first book, its' okay, this can be read as a standalone.
Nora Sutcliffe is a bounty hunter and has just been given the instructions to pick up the new skip, but in order to get to him, she must face her past. Smith is the leader of the MC and is not letting Nora anywhere near his guys. In fact, he wants Nora all to himself. Smith and Nora share a past and when their relationship ended, Smith was left hanging. What Smith eventually learns, is that Nora is not the same spoiled debutante she used to be and she has no intention of playing by his rules.
I really enjoyed Nora's character. She's tough, resilient, and doesn't let fear get in her way. It was a little unbelievable how her character turned from debutante to bounty hunter, but this is fiction, and it didn't really bother me.
Smith's character is highly enjoyable, as well. In order to get his way with Nora, he resorts to blackmail, but how else was he going to convince Nora that they needed to rehash the past?
"She'd thrown a lighter on the bonfire back when she was eighteen, and all these years later, he was still burning. But he wasn't going to burn alone."
One thing is for sure, their chemistry is still explosive and once he has her again, he has no plans on letting her go. Both Nora and Smith have scars from their past and it's clear that their past has shaped their future, but does that future include them being together or are they destined to be on opposite sides forever?
The romance is hot and I mean HOT!! This author certainly knows how to make her characters' sizzle. There was never any doubt about Nora and Smith's chemistry. It was there in spades! Overall, this one book I would definitely read again!

Book Info:

 December 6th, 2016 | Loveswept | Texas Bounty #2
The Texas Bounty series heats up as a female bounty hunter goes toe-to-toe with the tantalizing biker who never stopped loving her.
Nora Sutcliffe enjoys having tough guys at her mercy—preferably in handcuffs. The best fugitive recovery agent in the business, Nora always gets her man. But when her latest pursuit leads her to a notorious biker hangout, she's reunited with "Smith": the one man who was too hot for Nora to handle. Once upon a time, she was a rich girl and he was a bad boy from the wrong side of the tracks. Now she needs his help, and she'll do whatever it takes to get it.
Eight years ago, Smith let a pretty little Texas debutante break his heart. He picked up the pieces, went to hell and back with the army, then rode out of the darkness with a gang of outlaws at his back. The last thing he needs is a blast from the past like Nora, who has reinvented herself as a gun-toting badass with the stones to challenge him in front of the whole club. But if she thinks Smith will give up one of his brothers for a single night of pleasure, she's in for a rude awakening.