In Hooked on Love (Cotton Creek #2) by Jennie Marts, Avery Oliver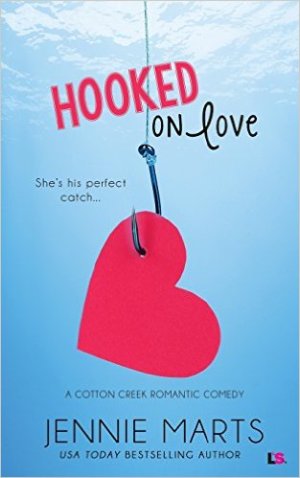 is looking to move onto bigger and better things in her career as a travel writer. Learning to fly-fish and spending time in a small-town near the Colorado mountains is not her idea of a good time, but if it gives her the chance to write the article of a lifetime, she'll do it. However, spending time with her sexy guide, Sullivan Reed, and pretending to be his girlfriend in order to help him fend off the unwanted advances of a neighbor start to become a little too real. Can she stop herself from falling for him, or will he be her chance at happy ever after?
His cheeks puffed out with a huff. "What? You can't be the reporter. I thought they said they were sending a man. A guy named Oliver."
"That's me. Well – I'm not a man. Obviously. But I am Oliver." She held out her hand. "Avery Oliver. And you are?"
He looked at her as if still trying to comprehend who she was, then let out a sigh and shook her hand. "Sullivan Reed."
Sullivan 'Sully' Reed should know better than to make assumptions, so it's no wonder he's completely blind-sided when he discovers the gorgeous woman he rescued in Cotton Creek's go-to store is the reporter looking to write an article about spending a week in the wild. Sully knows spending time with Avery isn't an option, but what choice does he have. He's duty-bound to be her guide, and soon he finds she's re-opening him up to adventure. The sort of adventure that could last a lifetime, if he's willing to give love a chance again.
Having absolutely loved the first book of this series, I couldn't wait to read this one, and I've got to say that I enjoyed this story immensely, as it encompasses the mysterious stranger and opposites attract tropes. The way this story began had me laughing at the hero's expense, because he doesn't seem like the sort of hero that gets easily distracted. And of course, what he's looking at has him distracted.
As for the dialogue, it was well-written and a nice blend of intense and playful. The heroine loves to tease the hero about how he words things when he's teaching her to fly-fish, and I couldn't help but laugh at his emotions and reactions to the situation. Certainly, it was good that she could embarrass him. Then there was this intense dialogue due to their back stories, especially that of the hero that had me hooked. His nickname for his ex-wife definitely suits her, and I could understand why he didn't want a relationship with another woman like her. Not that Avery is anything like his ex the more he gets to know her, but still, I could understand why he thought so when they first met. He loves small town life, she's a city girl. The way she looks and is all put together makes her seem fancy to him where as Sully is the total opposite. She wants adventure, and according to the hero's ex wife he lacks the need for excitement.
"So when do we instigate Operation Empty Hook?"
"Empty Hook?"
"Yeah, the hook is empty because I don't want to catch her."
She grinned. "Why, Sullivan Reed, I believe you just cracked a joke."
I really liked both the main characters, as well as the secondary ones and I smiled any time the men wore the shirts that were sold at Sully's shop. There was one that the hero wore that certainly rang true about the way to a man's heart is through a particular part on his shorts/pants. But what I liked most about the secondary characters is how things turned out for the woman that wanted Sully. She deserved happiness just as much as anyone else and I really liked who she ended up with.
Avery is strong, brave, kind, caring and a woman craving adventure because she didn't have much growing up. Her need for adventure makes her work hard for her story, yet there's no doubt – in the end – that she'll respect anything Sully asks of her. Because no way will she make his life a mess when it comes to his greedy ex-wife, if her story managed to get the sort of publicity she hoped. While with the hero, I found that the heroine brought out the best in him. He does things that he normally wouldn't do, which not only surprised him, but also surprised those that know him.
Overall, this was a fantastic addition to Ms. Marts Cotton Creek series where Sully and Avery make such a great couple, and the chemistry between them is off the charts. She's everything he doesn't want at first, but as the story progresses, there's absolutely no doubt that the sexual tension that increases any time they converse will explode onto the pages in hot sex scenes. The way this story ended was perfect, as I liked how one of the secondary characters gave Sully a good talking to about the choices he made when it came to Avery. Clearly, this secondary character thought he needed to hear her piece of mind to make him realize that what he did was wrong and that he needed to win Avery back. Moreover, I liked the way he won Avery back because it showed he was ready for more adventures with the heroine. I would highly recommend Hooked on Love by Jennie Marts, if you enjoy the opposites attract trope, small town romances or a heroine that shows the hero that love is worth fighting for.
Book Info:

Publication: October 17th, 2016 | Entangled Publishing | Cotton Creek #2
Avery Oliver can see the byline now. What better way to jumpstart her journalism career than to head out into the woods with a sexy guide? It s all very Bear Grylls, but she ll take it, even if it means ditching her beloved designer suits and handbags. All Sullivan Reed needs in life is a fly rod and the roar of a river.
Playing guide to a hot little reporter can t end well until they strike a deal that s mutually beneficial. She ll pretend to be his girlfriend to deflect an overly flirtatious neighbor, and he ll help her with the article. It s a win-win. Until it isn t Turns out, the only thing Avery is worse at than fly fishing is being a fake girlfriend, 'cause every time he's with her he forgets it s all pretend…"