Hooking Him by Aurora Rose Reynolds: Anna McAlister runs away from her wealthy family and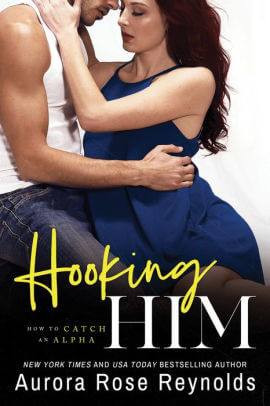 fiancé in Chicago to make a fresh start. She ends up renting from a sassy senior citizen and starts work at a local bakery. Even though there is a big age difference, Anna's landlady Edie and Edie's "posse" become close to Anna and look out for her. The reader will absolutely love the three "Golden Girls".
Anna wants no relationships with another man, but when she meets detective Calvin Miller, there are immediate sparks, which she tries to ignore. Calvin is definitely an alpha male, but he has a tender side, too.
The technique of having the chapters from alternating points of view works very well to flesh out the characters and move the plot forward. The clever use of numbered "suggestions" at the start of each chapter coincides with how Anna and Calvin grow during this time.
The author's use of mixing in a murder mystery adds some suspense and shows how tough Calvin's job as a deputy is, even in a small town. My only criticism of showing Calvin's alpha side is the "F bomb" is used way too often and that starts to get on my nerves both in books and other media.
Anna's and Calvin's love story is full of some steamy scenes that are perfect for the reader who likes a little spice in their reading.Their attraction is sizzling from the start.
The touch of using the dog Bane was so cute. As one who has done dog walking for the Humane Society, I know first hand how some dogs can go overboard in showing affection and need a little extra training.
Hooking Him by Aurora Rose Reynolds is #3 in the How To Catch An Alpha trilogy, but the novel is a great standalone. If you want a little extra steam in your summer pick up this fun book.
Book Info:

Publication: June 16, 2020 | Montlake | How To Catch An Alpha #3
From New York Times and USA Today bestselling author Aurora Rose Reynolds comes the sizzling final installment to the humorous and heart-filled How to Catch an Alpha series.
Anna McAlister needs a new life. But that doesn't mean she needs a new man. After leaving her fiancé and Chicago behind, she promises herself no dating until she finds what she's looking for. But meeting one seriously hot and determined detective has her questioning herself.
Calvin Miller is that detective, and he's been burned by women in the past. It's easy for him to sleep alone and focus on his work, but the moment he lays eyes on Anna, he starts imagining sexy nights with her wrapped in his sheets. Maybe it's time to get back out there.
But just as the attraction between them begins to sizzle, Anna's past shows up to create trouble. And to make matters worse, a string of murders forces Calvin to juggle his new relationship and his career. His worst fear? That the two are somehow connected.
Can they find love together, or will her past and his duty sink their hopes?