The Bad Boy of Redemption Ranch by Maisey Yates finds police office Pansy Daniels meeting her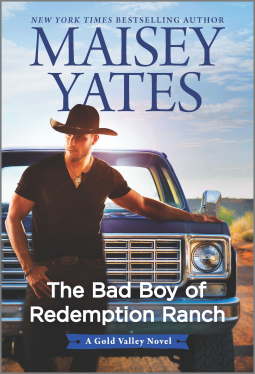 new landlord for the first time, while she's giving him a speeding ticket. West Caldwell has come to Gold Valley to get to know the father he's never known, as well as all his half-siblings. The last thing he expects to find is an attraction to his tenant who insists on trying to give him a ticket for everything.
Pansy shouldn't be attracted to West; she enforces the rules, he likes to break them. But the more they get to know one another, the more they realize they're more alike than it seems. When Pansy decides to run for police chief and realizes associating with West could harm her chances at the position, will she be willing to let him go?
I felt for both characters. West hasn't had an easy life and after being released from jail for a crime he didn't commit, he's searching for a place to belong. Pansy lost both of her parents when she was young, and raised by her older brother, Ryder, along with her other siblings and a couple of cousins. Her father had been the police chief, and she wants nothing more than to make him proud, which makes her a stickler for following the rules.
West softens Pansy a bit, and it was good to see more of her true, more fun and relaxed personality come through as she spends more time with him. She learns that it's ok to break the rules sometimes, and that maybe there's something more to her than just being a police officer.
I liked how West's half-siblings embraced him and welcomed him into the family, but I would have liked to have seen more interaction between West and his father. This is the ninth book in the series and I haven't read any of the previous ones, but it feels like they were introduced in a previous book. I'm not sure if they had more interaction in those than they did in this one, but it would have been nice to have seen how they are with one another. As it was, I couldn't get a feel as to how his father felt about the discovery of having another son and having him living in town at Redemption Ranch.
The Bad Boy of Redemption Ranch is a story of redemption, hope, acceptance, and family. It's a charming small-town romance that will have readers rooting for both West and Pansy to find the happiness they deserve.
Book Info:

Publication: June 23, 2020 | HQN Books | Gold Valley #9
Police officer Pansy Daniels is the poster girl for responsible behavior. Orphaned as a child, she has dedicated her life to safeguarding her local community. The last thing she needs is a hot-headed cowboy with attitude cruising into town. He may be her new landlord, but that's no excuse for provoking her…or sending her heart into overdrive.
West Caldwell has come to Redemption Ranch to put his past behind him. Flirting with a pint-size police officer who thinks he's bad news is definitely not part of the plan, but it's deliciously easy to get under Pansy's skin. Then West discovers the vulnerability Pansy keeps so well hidden, and suddenly this renegade cowboy is in over his head. In her arms, West feels like the man he always wanted to be–but can he become the man Pansy deserves?