Hot and Bothered (Hot in the Kitchen #3) by Kate Meader: Jules Kilroy is a single mother, she is the younger sister of the famous Jake Kilroy and Shane Doyle, she has dyslexia, and to top it all off, she is in love with her best friend, Taddeo DeLuca.
"In this scenario, her brothers were Lennon and McCartney, and she was the quiet Beatle. The one who took a while to find his stride but then went on to outdo them all.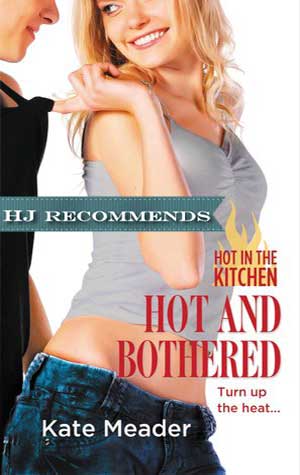 After one horrifying night, when she kissed him silly and he turned her down flat, she has been trying to hide her feelings. She is use to feeling inadequate, so all her life she has aimed low, let other people fight her battles, and never taken what she wants. But with Tad, she feels like not such a screw-up, like she has control over her life, like anything is possible. Now, she needs to help her best friend to open up to her, let her in, be the rock for him that he has always been for her. If she can accomplish this, she can accomplish anything.
"I'm crazy about you and Evan – don't ever think I'm not – but if someone tried to keep me from my kid, I would do everything in my power to change that.
Taddeo DeLuca has been in love with Jules since the first minute that she walked into DeLuca Restaurant. From that moment, he has been trying to keep is simple, be her friend, help her with her bonny baby boy, Evan, and keep his hands off. But one kiss from Jules and Tad realizes that no one else will do. But losing his parents, blaming himself and building a wall around his heart make Tad a bad bet in his eyes. But as Jules begins to break through that wall, to let the light back into Tad's life, he begins to wonder if the happiness and love that he never thought he would ever find is right within he reach.
I cannot tell you how excited I was to finally see Hot and Bothered by Kate Meader released. I have followed the ups and downs of Jules and Tad for the last 2 books, and I have to say, that their story was so totally worth the wait.
There are some many wonderful scenes and so many wonderful moments in this story that really touched my heart. Jules and Tad are PERFECT together. Everyone sees it, everyone knows it…..well everyone but them. They both have quick wit, smart mouths and are not afraid to call the other out on their bull. They are also so afraid of the mistakes that they have made in the past, Jules with her baby's father, Tad with the guilt of his parents death, that they are afraid to believe that they truly deserve to be happy. But once they move their relationship from friends to something more, once they begin to truly open up and let the other in, they begin to see a future full of possibilities that they never thought were possible. I love we got to visit with the characters from the two previous books, I love the humor, the love that these character have for each other, for their families.
"It's the Holy Trinity of how I feel about you. I want you, I need you, I love you. There will never be anyone else for me, Juliet Kilroy.
These two truly deserved a HEA, and that is exactly what they got. If you are looking for a funny, touching, family oriented series, pick up Kate Meader's Hot in the Kitchen series. You will fall in love again and again and again. I loved this book and that is why I am giving it 5 beautiful stars.
Book Info:

Published March 4th 2014 by Forever  | Hot in the Kitchen #3
Although her baby boy keeps her plate full, Jules Kilroy is ready to take her love life off the back burner. Despite a bevy of eligible bachelors, it's her best friend, Taddeo DeLuca, who's fueling her hormones with generous servings of his mouth-watering Italian sexiness. But Jules learned her lesson once before when she went in for a kiss, only to have Tad reject her. She's vowed never to blur the lines again . . .
After a lifetime of excuses and false starts, Tad has finally opened a wine bar, a deal made even sweeter when Jules joins his staff. Lovers come and go, and he's had his share, but friendships like theirs last forever. Still, ever since he tasted her luscious lips, he can't stop fantasizing about what could be. Then she signs up for an online dating site—and the thought of his Jules with another man makes Tad's blood boil. Even if he gets burned, Tad can't stop himself from turning up the heat this time.