Mad About You by Joan Kilby is another wonderful addition to the Indulgence line. I enjoy stories about strong friendships that evolve into love and this one fits the bill perfectly.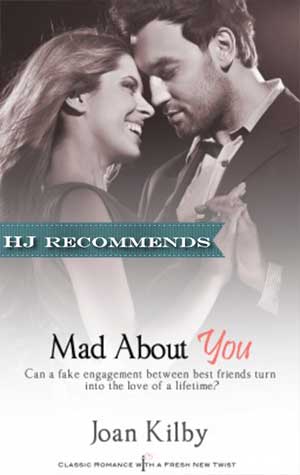 Cassy Morris and Scott Thornton have been best friends since they were about seven years old. When Scott's mother passed away, Scott's father Ian was devastated. In addition, he did not know how to care for his young son. The best solution at the time was for Scott to go live with his aunt and uncle, which worked out very well overall. As the father and son relationship deteriorated, the friendship between Cassy and Scott flourished and continued into adulthood.
We move ahead about twenty-five years and Cassy is an unhappy and bored self-employed accountant, while Scott is a geeky millionaire, on the verge of taking his Dreamcatcher invention public. With everything that is going on, Scott needs help running his office, finding an angel investor and securing funding. That is where Cassy comes in. Scott needs someone he can trust to help him, and he turns to Cassy for assistance. She gives up her lackluster life in Bellingham and relocates temporarily to Seattle to support Scott and make his dreams come true.
Both Cassy and Scott have never found true love, which is because they secretly have deep feelings for each other that they both never felt comfortable pursuing. Now that they are spending almost every waking minute together, their feelings are exploding and being best friends is no longer enough. A couple of amazing kisses here and there begin their road to togetherness.
I loved the way Ms. Kilby evolves the relationship between Cassy and Scott. Continuous baby steps until it all implodes during a weekend away as they are wooing a potential investor. Years of denying their true feelings results in the the best sex of their lives, over and over again. Ms. Kilby's sex scenes are replete with emotion and apprehension, in addition to lust. A highly combustible combination.
Ms. Kilby does an excellent job of explaining why Scott was basically abandoned as a child. Scott's understanding of the situation brought tears to my eyes, as well as his father's reasoning for making such a difficult decision. The writing is poignant and sentimental.
Overall, this is a wonderful, moving story that is well-written, exciting and original. I was able to connect to both Cassy and Scott as a couple and as individuals. The geeky guys in the office add a bit of humor and amusement. This is a quick read that you don't want to miss.
Book Info:

Publication: March 31st 2014 by Entangled: Indulgence
Accountant Cassy Morris knows she's putting her heart on the line when she agrees to move in with her best friend, multi-millionaire geek Scott Thornton while she manages his nanotechnology lab and finds an angel investor for his revolutionary new product. She's loved him forever even though he's only ever regarded her as a friend. But Cassy never could refuse Scott anything…
When Scott is named Seattle's sexiest man, the attention from women threatens to get in the way of him finishing his pet project and putting it on the market. Cassy steps up once again and pretends to be his fiancé. A lifetime of repressed sexual tension explodes in a passionate affair. Soon Scott is wondering how he can convince Cassy to turn their fake engagement into reality.