In Hot Mess by Emma Hart, Well-known vlogger Elle Evans fondly remembers when her most pressing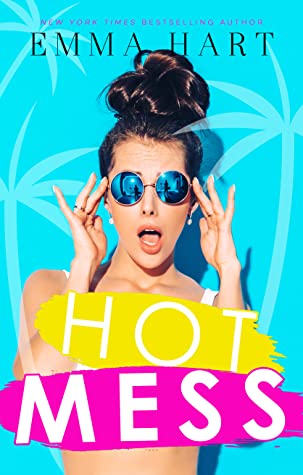 issue was what content to run on her YouTube channel for the week and how many takes it would end up being to get just the right shot. Now her career will likely never be the same. Elle's squeaky clean image has been tarnished by a sex tape her ex made of them at a long ago party, drunk in a broom closet–a tape she never knew existed or consented to. With all hell breaking loose in NYC, Elle does the only thing she can think of and heads as far away as possible, down to the Florida Keys. And basically right into the arms of hot British dad Theo.
'The tape would always be a turning point in my life. Before The Tape. After The Tape.
I guess, now, my big choice was deciding what After The Tape looked like.'
Theo Carter and his nine-year-old daughter Arielle are a dynamic duo in Creek Keys. With his beachside home and rental properties to take care of and an active, smart-as-a-whip daughter who keeps him on his toes, his social life has taken a backseat. Something Theo doesn't mind. Then Elle comes sweeping into town and throws his life into turmoil. Ari is beside herself to have her hero renting the cottage next door. And the locals–including his eccentric great aunt Elsie–are completely smitten with Elle. If Theo is honest with himself, he's a wee bit smitten with the lovely, albeit clumsy, lady himself. And considering her current situation and the fact that she's likely leaving soon, he's not sure it's smart to get involved.
"Ari is my sole responsibility, and sometimes, being Dad is entirely who I am. Last night, you reminded me what it was like to be Theo. Dad me wouldn't have kissed you, but I'm glad that I did."
"Well, I have to admit, you're not so bad. As Dad *or* Theo."
A sexy single dad with a yummy British accent and a kind-hearted vlogger on the run from her ex's cyber attack against her reputation–what a setup, right? Throw in some unconventional locals and a precocious nine-year-old and you've got a recipe for (totally entertaining) mayhem.
'A deep voice with a strong British accent joined the conversation, and when I looked up, I swear my ovaries grew a mind of their own and leapt right out of my body, only to explode into fireworks above my head.'
Hot Mess was just what I needed after reading a few darker, heavier books in a row. Even though this was about the heroine's ex using revenge porn to try to bring her down a while after they broke up, the rest of the story was fun, flirty, and our cast was just so endearing that I smiled the whole time. And who can't use some laughs right about now?
I really liked our heroine Elle right from the start. She was creative, smart, and strong, but still had a vulnerability to her–especially with how those she cared about treated her–something I think most of us can relate to. Elle was also rather klutzy (I feel her pain!) which led to a few predicaments that our wary hero Theo assisted with, making him seem like a prince from a Disney movie. They were super cute together. Both were rather clueless in some ways about true love, having been burned before. With the help of Theo's adorable daughter Ari and some of the hysterical locals, he and Elle finally gave in to their attraction. And that's when the sparks flew. Hart didn't scrimp on the passion, making their scenes together absolutely sizzle.
If you're looking for an uber modern romance with just enough depth to keep things real but with tons of heat and laughs, Hot Mess is definitely for you. Emma Hart's lively bantering and quick-moving plot made this a completely enjoyable read.
Book Info:

Publication: Published May 19th 2020 | Emma Hart |
What do you do when the whole world has seen you getting down and dirty in a broom closet?
I, Elle Evans, am on the run.
Not from the fuzz—although that would be more exciting.
No, I'm on the run from the four-year-old private tape that, thanks to my vengeful ex, has probably already ruined my vlogging career.
There's nothing like the entire world knowing what you look like mid-O.
Creek Keys, Florida, is a million miles away from NYC and the perfect place for me to hide for the rest of summer until I can figure out what I'm going to do.
Something that's easier said than done since my new landlord's daughter thinks you're God's greatest gift. Even better? Their beach house is right next to the one I'm renting, so there's no getting away from her—or her hot, British dad.
Who most definitely does not think I'm role model material.
He might be right.
The problem is that neither of us can say no to her.
Or each other.