Their Nine-Month Surprise by Laurel Greer is the fourth book in the small-town romance series,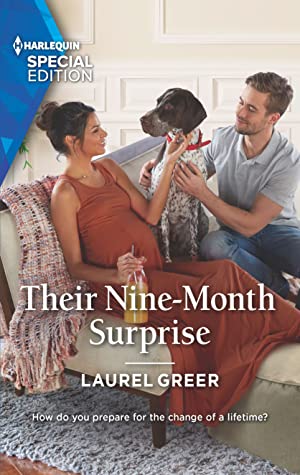 Sutter Creek. It was fast-paced and easy to read. It caught my attention on the first page and won me over. All the side characters added to the book and showed the true spirit of small towns.
Marisol Cardenas had come to Sutter Creek in December to visit her brother where she meets Lachlan. Their no-strings-attached vacation fling had left her pregnant. Contacting Lachlan by phone or email had been futile so she packed up and moved to Sutter Creek so she could be close to her brother and Lachlan could be a part of the baby's life if he chose to. She had been able to re-arrange her school so she could complete her Ph.D. prospectus and dissertation research at the nearby university. She had everything planned and was determined to have her prospectus written and presented before the baby was born. Marisol had decided that the only possible relationship she would have with Lachlan was as a co-parent. She had been hurt in the past and was afraid of commitment and relationships. Her focus was on the baby and her school and she had no extra time for anything more, but resisting Lachlan became impossible as they spend time getting ready for the baby.
Lachlan Reid loved working with and training dogs. His goal of opening a SAR dog training facility was about to come true. When Marisol chose to end any chance of them having a relationship together when she left town by saying it was only a short-term fling, he reluctantly agreed. To get away from the memories of Marisol, he took a job abroad teaching other SAR dog handlers. He hadn't been able to receive messages due to poor reception, so he never knew she was trying to contact him. He was shocked when he got back home and finally heard about the baby. He wanted to respect the boundaries she set for their relationship, but he had been attracted to Marisol from the moment they met. He wanted a real relationship with her but first he needed to show her that he could be trusted.
I loved how dedicated, caring, and open Lachlan was. He was such a great hero and so determined to be the best dad he could be. Marisol was hard to like at first because her character seemed so stand-offish, but after learning more of her past I could understand her hesitation to make commitments. This was a wonderful book that felt very believable since it touched on real-life issues. It is a must-read if you like small-town romances.

Book Info:

Publication: June 1st 2020 | Harlequin Special Edition | Sutter Creek #4
How do you prepare for the change of a lifetime?
She's determined to do it all by herself…
but he'll do anything to earn her trust!
Returning from vacation, veterinary tech Lachlan Reid is shocked—the woman he's been dreaming about for months is on his doorstep. He hasn't forgotten his one magical night with Marisol Cardenas – nor will he now that she's pregnant! Lachlan has always wanted to be a dad and works tirelessly to make Marisol see his commitment. But can he convince marriage-shy Marisol to form the family of their dreams?