In Hot Pursuit by Lynn Raye Harris (Series: Hostile Operations Team , #1) Evie is back in her home town trying to pull her life together. She lost her restaurant when her partner and lover managed to steal all of the money. Not only is Evie broke and jobless, she feels like it's the end of a dream. For now she is washing hair in her mother's salon while she looks for a job as a chef. It would be nice to have her own restaurant again, but she'll settle for just getting out of her home town again.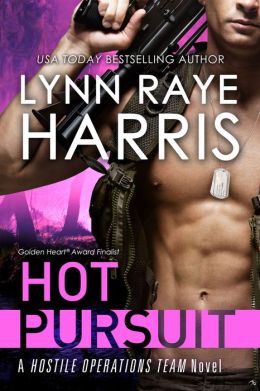 It was bad enough the ridicule and hurt she felt as a teenager after asking her friend Matt Girard to be her first lover, now there is this too. She was the poor little girl from the poor side of town…and after the humiliation she endured after Matt, she was only to eager to leave Rochambeau in the dust and make something of herself. Now she is back, living with her mother and younger sister again. The last person she wants to run into is Matt. Little does she know that within hours after seeing Matt again, he'll save her from a knife wielding attacker, and have Evie yearning to be touched by him again.
Matt is back briefly to Rochambeau for his sister's wedding and to wait out a hearing after his last operation as a top secret military group. He also feels he needs to find peace with Evie after the way he treated her years ago. He certainly doesn't expect to be saving her from the knife wielding attacker, finding a dead body on her porch, her mother injured, her sister missing, and finding out someone is after Evie for something she doesn't even know she has. It turns out Evie's ex has strong ties to organized crime…both he and they will stop at nothing to get what she doesn't even know she has back.
It's a race against time to help Evie and save her sister, and Matt uses whatever military ties he has to help, sanctioned or not. Evie will have to find courage and strength, and face some of her darkest fears if they are to survive. In the span of a few days, Matt and Evie are pulled together again like they've never been apart, only now they are grown ups who can't get enough of each other despite the lurking danger and knowing Matt will be leaving again soon. Matt's career is already threatened after the latest Op, but he will do anything to save Evie and her sister. Will that be enough for him, can he leave again without looking back? Evie knows she is losing her heart to Matt…will he have to choose between her and his career? Is it possible for them to both find the courage to take a chance with each other without the adrenaline rush of danger?
Hot Pursuit is a fast paced, action filled romantic suspense. Lynn will have you loving both Matt and Evie while at times wanting to shake them! Evie is honest, driven and independent…and she'll let Matt protect her and boss her around up to a point. But she has a big heart and can't stand the thought of anything happening to him either! Evie has not been comfortable in Rochambeau for a long time, but she's making the best of a bad situation. She's so busy focussing on finding a way back out of town though that she's missing a lot of what's there. Matt is one HOT military man!! He lives to protect and help people who need it. He has felt this way for years, since his Mother was sick and died. Since then he's never been close to his father and struggles to maintain a relationship with him. Now that he's back, even temporarily, he's determined to make amends with Evie…the girl who used to be his best friend. It might lead to more than that this time though!
Lynne takes us on a great adventure in Hot Pursuit. I had no problem getting immersed in this story. Her descriptions of the bayou will take you there and make you see it in your mind even if you've never been there. Although the entire book setting was only over a few days, it was fast paced, full of adventure – both the scary and the sexy kind! She really manages to pull you in and feel both Evie and Matt. Lynn infuses Hot Pursuit with bravery, the hope for a future, and peace with the past.
Highly recommend to anyone looking for a romantic suspense that will at times have you on the edge of your seat!
Book Info

Publisher: Lynn Raye Harris; 1 edition (July 22, 2013)| Series: Hostile Operations Team
The last man she ever wanted to see… Evie Baker's luck just ran out. Thanks to an ex-partner with organized crime ties, she's lost her restaurant, her money, and nearly all her self-respect. Forced to return to her hometown and work as a shampoo girl in her mother's salon, she doesn't think her luck can get any worse. But then someone starts shooting at her, her sullen baby sister is suddenly missing, and the high school heartthrob who stole her heart—and her virginity—is the only man big enough and bad enough to help. Might be the only one who can save her… Captain Matt "Richie Rich" Girard can't afford to get involved. He's already on the verge of a court-martial after a Top Secret op gone wrong, and he's been ordered to stay out of trouble while he's home for his sister's wedding. But when Evie's ex-partner turns up dead, staying out of trouble is the last thing on Matt's mind. He failed Evie once before; he can't fail her again. If he's going to protect her from a killer, and find her sister before time runs out, he'll have to risk his entire future—and both their lives—to do it. Things are about to get HOT in the bayou!