Hottie Lumberjack by Tawna Fenske: Chelsea is an incredibly talented and creative baker. She runs her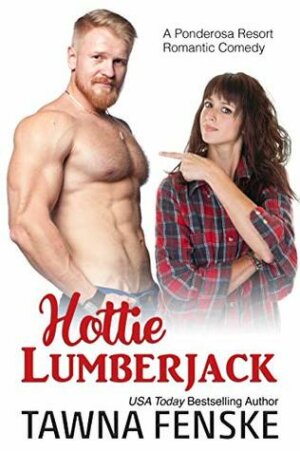 own very successful cupcake shop and she loves to create fun and innovative new flavors. Chelsea is also a devoted single mom to an adorable seven-year-old daughter and she's quite closed-lipped about just who the father is. She tends to be private and watches what she shares with others.
Mark is seemingly the odd one out when it comes to his siblings. He's tall and built like a lumberjack. He loves working with his hands, great at fixing all the things, and hates to attend management meetings. He runs the maintenance and grounds for the resort that he and his siblings own, yet none of them act rich and entitled.
Chelsea has terrible taste when it comes to men. She hasn't necessarily sworn off men since becoming a mom, but she's yet to find someone who is honest and that she could bring around her daughter. Thanks to Mark's meddling sister, he finally meets Chelsea and it's instant chemistry on both sides.
"I'll take four dozen, please," he says.
I bite my lip, not positive I've got that much stock. "I thought Bree only needed two dozen."
"She does," he says. "The extras are for me. A dozen of whatever you've got in stock now, and the rest can wait 'til Friday."
Mark has a huge heart and he's a large teddy bear, but he's wary of getting involved with Chelsea. They run into each over and over and it's harder to not act on their feelings when both are so very interested. They accept each other for who they are and give each other space to open up. Mark is super protective and makes Chelsea feel safe, yet desired.
"We both have histories," I tell her. "Unless yours includes serial murder or rooting for the Yankees, it doesn't change how I think about you."
The edges of her mouth tug up, the first full smile I've seen since we got here. "You think about me?"
Busted.
Hottie Lumberjack is sweet and sexy, endearing and entertaining. Tawna Fenske developed the characters, romance, and mystery with banter, heat, and heart. Ms. Fenske created a great cast of characters in their families. Fans of Piper Rayne and Melissa Foster will enjoy Hottie Lumberjack.
Book Info:

Publication: March 1st 2019 | Pub: Tawna Fenske | Ponderosa Resort Romantic Comedies #4
When Mark Bracelyn lumbers into Chelsea Singer's cupcake shop with an axe, she's poised to hit the panic button. But he fixes her door, praises her buttercream, and sends her skittish heart pounding like a hammer on a hollow log, so he can't be all that scary. Chelsea's sure there's a gooey marshmallow center under Mark's tough outer shell, though admittedly she's been wrong before.
Mark may look like a grungy lumberjack, but he's also the wealthy part-owner of Ponderosa Luxury Ranch Resort. The lone Bracelyn heir to avoid a childhood of fancy boarding schools, he stays hidden behind the scruffy beard and battered truck. But something else separates Mark from his siblings, and keeping his guard up means keeping his secret—and his family.
When someone threatens Chelsea and her daughter, Mark becomes their personal protector. When he's not watching her back, he's watching the rest of Chelsea's body and warning himself not to touch. With danger mounting, they bond over phallic cupcakes and bizarre bunny behavior, while Mark battles his surging attraction. Can a sweet-toothed mountain man and a cautious single mom escape their histories, or will their hearts land on the chopping block?