Down & Dirty by Rhenna Morgan, immediately draws you in and keeps you captivated. My eyes were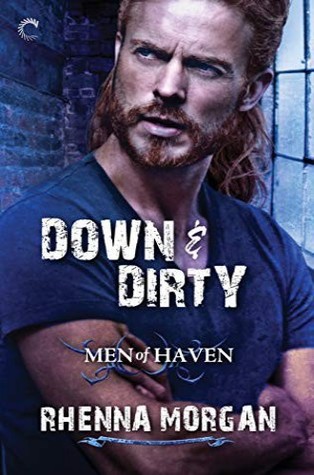 literally glued to the pages waiting for Lizzy and Axel's story to unfold. I could not have asked for a better book for these two. The storyline, the characters, and the chemistry will have readers begging for more. Even though this is book #6 in this series, don't be afraid to jump right in, you don't need to read the previous books to fall in love with this one.
Axel Mckee has been on the music scene for years. He loves music and it's in his blood, or rather deep in his soul. He knows talent when he hears it and Lizzy Hemming has talent. He's blown away by her powerful voice and stage presence and wants her at his club. Actually, he wants Lizzy in more ways than one. He wants to help her succeed in her music career, and he wants her in his arms. When he comes to her rescue at a gig, he realizes he'll have to break down the walls she has in place, to get close to her.
Lizzy comes off as shy and reserved, but on stage she can be anybody she wants to be. She's a powerhouse singer that needs to shine. Lizzy keeps her distance, so people can't hurt or use her. She has been burned before and doesn't trust easily and when Axel offers her a prime gig, she's skeptical, but the more she thinks about him, the more she wants to find out about him. Axel is a sexy Scot with a silver tongue and it's only a matter of time before Lizzy gives in to the passion flowing between them.
Axel's taken with Lizzy from the very start and only has eyes for her. There's just something about Axel that will have you swooning. Axel and Lizzy together are just perfect. They balance each other out. From the very first meeting the chemistry between them has been off the charts and it only it gets hotter from there. The BDSM scenes are well-done and will definitely steam up you e-readers.
I adored Lizzy and Axel together, but I also loved the secondary characters. While breaking down Lizzy's resistance, he also brings her into his big family and it's something Lizzy desperately needs.
If you love alpha male's, rockstar romances, and a strong brotherhood bond, definitely grab Down & Dirty. You will not be disappointed.
Book Info:

Publication: March 11th, 2019 | Harlequin – Carina Press | Men of Haven #6
The Men of Haven: fierce passion, unyielding loyalty.
Especially when it comes to their women.
A powerful man
Axel McKee abandoned his musical career years ago in favor of becoming a power player on the music scene. His dreams of the spotlight are over—and he's better off for it. Working with his Haven brothers and building their empire is enough for him.
One who commanded attention with nothing more than a look
And then came Lizzy. A dynamic, beautiful powerhouse of a performer unlike any he's seen or heard before. Her presence leaps off stage and into the heart of anyone who watches her sing. Axel wants her. Wants to help her and collaborate with her… But more than anything, he wants to be with her.
And every ounce of his attention was locked on her
Two things are immediately obvious: Lizzy's been burned before, and earning her trust will be Axel's biggest challenge yet. If he can get this fierce, stubborn, talented woman to see the passion and care that he's offering, he might get a chance at a new dream—sharing the spotlight with the woman he loves.