How to Catch a Prince (Royal Wedding #3) by Rachel Hauck: Since her brother's death, life just hasn't been the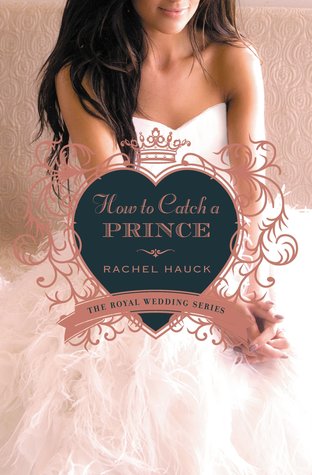 same. In one fell swoop, Corina lost her twin brother, husband, and her parents. When Carlos died in the war, her family fell apart and her parents struggled to come to terms with losing a son while seeming to forget about the daughter they do have. It's five and a half years later and Corina is getting by working as a journalist. She's confident, bright, organized, and poised.
Prince Stephen just wants to heal from his latest rugby injury and get back on the pitch. Stephen is a sexy, charming, stubborn athlete who is reluctant to go through with the coronation ceremony and take on the duties specifically associated with the War Memorial. Five and a half years ago he was the sole survivor in his group during the war and he's drowning in survivor's guilt. His world is knocked off its' axis when his brother and king inform him that he's still married to Corina.
Their first meeting at so many years doesn't quite go as Stephen expected. Corina believes that they aren't married, so she was quite surprised to learn that they have been married all this time.
"This is unbelievable. I don't hear book from you in years, but you have the gall to make demands. Once a prince, always a prince."

"Once an American heiress, always an American heiress. I appeal to your mercy and charm, and your good Southern graces."
Seeing each other again was difficult; it brought back to the surface the feelings that they have for each other. Corina uses Stephen's request for an annulment as way to try to finally find out how her brother died and just maybe why their relationship ended as it did. Corina turns to religion and God for guidance while she tries to determine what she should do. And it seems that God and her boss lead her right back to Stephen with an assignment in Stephen's city.
Stephen tends to run hot and cold, like he can't quite make up his mind as to whether he wants to reconcile or proceed with the annulment. As they spend time together, it is clear that they never stopped loving each other. They have chemistry, but they also have a good friendship. Corina treats Stephen as a man, and not as a Prince.
"You do not follow directions well at all, do you?" Stephen said, which, truly he found was one of her most endearing qualities.

She leaned into him. "Go Dawgs. Sic 'em. Woof, woof, woof."

"Did you just woof at me?"

"Woof!"
How to Catch a Prince is an entertaining second chance romance between a prince and a former socialite. There are increasing references to God and religion the closer you get to finishing. Rachel Hauck provided two interesting main characters in Stephen and Corina. Ms. Hauck also created a good cast of secondary characters, including family and some guardian angels.
Fans of sweet, contemporary romances featuring royalty and religion would enjoy How to Catch a Prince.
Book Info:

Published February 24th 2015 by Zondervan | (Royal Wedding #3)
Prince Stephen came to America to escape responsibility. But what he found complicates his life more than ever.
Corina Del Rey is happy with her life in Melbourne, Florida. She spends her days engrossed in her career as a journalist and has her sights set on climbing the corporate ladder if for no other reason, to distract herself from her dissolving family. But when she is confronted with the past she fought so hard to put behind her, she struggles to make sense of her future.
Prince Stephen of Brighton Kingdom has moved on since the tragic death of his buddies in Afghanistan. A star professional rugby player, he has no intention of looking over his shoulder at what could've been.
But when a notice arrives in the mail requiring his and his wife's appearance before the courts to dissolve their marriage, he must deal with the questions rumbling around in his heart. He thought his marriage had been annulled long ago, but his memories of Corina Del Rey remain close. Does he still love her? Can he even find her? Above all, can he tell her the truth about that fateful night in Afghanistan seven years ago? If he does, he might really lose her forever.