In Temptation in Paradise by Joanna Neil, Jessie Heywood is not looking for romance but when when she meets Dr. José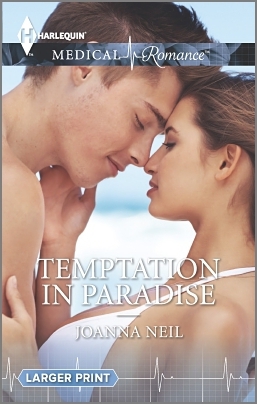 Benitez she finds herself facing the ultimate temptation. Because José is the one man she shouldn't want—her boss.
Her trip to Caribbean was supposed to be a temporary one, but with the passion between them blazing hotter than the sun, Jessie suddenly finds herself wanting to stay forever…
Temptation in Paradise by Joanna Neil is a well written romance set in the beautiful Caribbean. The plot is quite simple and predictable but on an whole it was enjoyable.
The pace of the story was a little slow for my tastes but would be liked by readers looking for a medical romance with a slower pace. Jessie is a sweet heroine whose last romantic relationship has left her cynical. She arrives in Caribbean to get a respite from her past and finally move forward. Jose is the perfect hero for her because he understands and cares for her.
Temptation in Paradise by Joanna Neil was not a steamy romance but rather an emotional one concentrating on the characters share. The medical details were adequate and interesting.
Book Info:

Published February 2015 by Harlequin Medical Romance
Flirting with her off-limits doc…
Pediatrician Jessie Heywood has arrived in the Caribbean ready to leave her heartbreak behind and focus on the future. Romance is the last thing on her mind, but when she meets Dr. José Benitez she finds herself facing the ultimate temptation. Because José is the one man she shouldn't want—her boss. Her interlude in paradise was supposed to be temporary, but with the passion between them blazing hotter than the sun, Jessie suddenly finds herself wanting to stay forever…