How to Fake a Wedding Date (Little Black Book of Secrets #3) by Karen Booth is a well deserved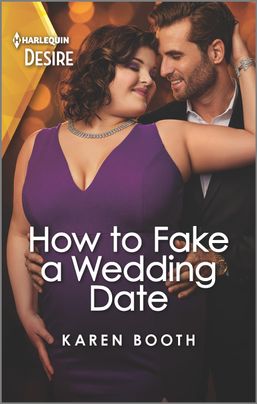 finale for a very intriguing trilogy. After a complicated year, Alexandra "Alex" Gold needs a date for her best friend's wedding. Her brother Daniel suggests her to go to the wedding with his best friend and business partner, Ryder Carson. On paper, it's a win, win. Alex would keep tabloids at bay and Ryder could connect with a potential client which would take their already successful company to the next level. The catch? Alex always had a crush on Ryder and—spoiler alert—they spend a night together six months ago.
Since day one, their mutual attraction has been there, but it has a few obstacles. Ryder is a self-made man, who worked hard for everything he has. His loyalty towards Alex's brother defines not only his personality—the plot runs around Ryder's friendship with Daniel as the biggest conflict in his relationship with Alex. A fling with Alex would ruin that friendship (he considers Daniel as his brother since he doesnt have a proper loving family) and their business. Plus, he promised Daniel to stay away from Alex.
"Ryder always kept promises to himself. He knew he was the one person he could count on."

"He couldn' t escape the feeling that there was something here between them that went beyond attraction or lust. It felt far more consequential than that. And he wanted to think that he was ready to claim it all for himself."
Alex, on her part, had been destroyed by the tabloids when she called off her million-dollar wedding. Since then, she couldn't have a decent relationship with any men, afraid they could have the same luck Alex's fiancé had.
"The media had been so brutal with her. Relentless. And yet she was in the absurd position of needing to mold the narrative she knew they would pursue."
But their growing emotions for each other are stronger than everything against them. They are REALLY HOT together. Their chemistry is great and their love is solid and genuine. I enjoyed Alex and Ryder's romance.
Because this book is the conclusion of the Little Black Book of Secrets trilogy, secondary characters have an important role in this book. First, we have Alex's best friends, Chloe (the bride, book 1) and Taylor (book 2), along with their significant others. Their pursuit of Little Black Book's identity brings interesting scenes. Then we have Chloe's uncle Geoffrey, the potential client Ryder looks forward, and his wife. They rule the romantic side of the story. And there's Daniel. I disliked him through the whole story but I have to admit that he's a very needed piece so this book works.
Since I didn't liked book 2 as much as expected, I was a bit skeptical about this one. That said, the Little Black Book intrigued me enough to give this book a chance. The result? This story surprised me a lot. Its clever writing has it all—all questions have been answered and everything is well placed. And Alex and Ryder are GORGEOUS. I LOVE the finale of this series. It's well worth the reading.
Book Info:

Publication: June 28, 2022 | Harlequin Desire | Little Black Book of Secrets #3
This socialite left her fiancé at the altar and now she needs a fake date to a wedding! What could go wrong? Find out in the third Little Black Book of Secrets novel by Karen Booth!
It started with one simple request:
"Pretend to like me for three days."
Canceling her own million-dollar wedding made socialite Alexandra Gold infamous. Now the only way to avoid going alone to the wedding of this season—and keep vicious gossip account Little Black Book of Secrets quiet—is to bring a fake date. The almost-perfect candidate: architect Ryder Carson, her brother's best friend. Ryder's off-limits, yet tempting, despite their recent history. And as the celebration heats up, so do the sparks. But is it only a matter of time before Little Black Book reveals their secret?
From Harlequin Desire: A luxurious world of bold encounters and sizzling chemistry.
You'll be swept away by this bold, sizzling romance, part of the Little Black Book of Secrets series:
Book 1: The Problem with Playboys
Book 2: Black Tie Bachelor Bid
Book 3: How to Fake a Wedding Date