Tease by Melanie Harlow: All Felicity wanted was to prove to everyone that she is not the same geeky girl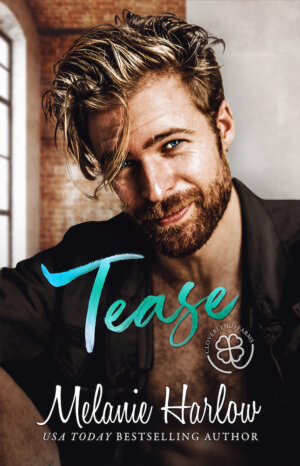 that she was in high school but after a very bad self inflicted hair cut, a couple really strong drinks and coming face to face with the high school mean girl, really Felicity can not be held liable for what she might say… after all doesn't everyone say they are getting married to a billionaire?
Luckily for Felicity she just happens to be best friends with one billionaire, now all she needs to do is convince Hutton to be her pretend fiancé for the night. What was supposed to only be a small lie for the night soon spreads like wildfire and the two find themselves surrounded by their thrilled family and a whole lot of publicity, so when Hutton suggests that they continue with their little fib for a while Felicity decides to go along with it after all the sweet kisses and steamy nights together are all just for pretend, right?
I just love the entire fake dating trope and throw into the mix the fact that these two have been best friends for their entire life and I was totally hooked! Harlow has really out done herself with this cute friends turned lovers romcom, this book has just the right amount of swoon, sweetness and cute awkwardness to make it relatable and totally consuming. I just ate up their entire relationship build up as they went from just friends to dipping their toes into what could be to ultimately falling completely for one and another!
"I don't need you to be perfect or magical. I just need you to stay with me."
Hutton was just swoony cute, I just loved our hero to bits. Not only did he have the entire quiet shy guy exterior but a total boss in the bedroom vibe but he was genuinely a really nice guy. I loved that all he wanted to do was make Felicity happy in any way that he could and even though he had all these billions it was really never about the money for him. But gosh that alpha vibe that was saved only for Felicity was HOT!! Let me just say their steamy scenes were just that HOT!! I really enjoyed getting to see him finally realise that he can't be without Felicity and that the possibility of them was worth risking everything.
As for our wacky leading lady Felicity, well to be honest I feel that she was a bit lost in herself. This was largely due to what happened with her mother and the way this relationship shaped her entire outlook on love and romance, but good gosh did Hutton come and knock those walls right over! It was very clear that he was her safe space and that they gave each other strength even when they didn't realise that it was what they needed. I loved getting to see her finally opening up to all the people close to her and really letting go of the burden that she had been carrying for all these years. Also it was pretty hard not to love her with her panic hair cuts!
"I have been and always shall be your friend."
The thing that I really liked about this book was the fact that both Hutton and Felicity both had these little quirks that just made them all the more loveable all while bring them closer together. I really liked that they had this amazing friendship bond and their relationship built on this bond so naturally, and really that they had both been harbouring these feelings for each other for all these years but just to scared to act on them. Their connection was so clearly there that no one even questioned their rushed timeline or that they had been seeing each other, this only helped push them together and let me just tell you once they finally do get together it was heart meltingly cute.
The supporting characters in this book were just great, I loved Huttons family and that his sister helped give him the push that he needed, also I just loved his mother and all of her psychic magic. Winnie and Millie were just the perfect balance to all the crazy that followed Felicity, and I really enjoyed getting to see these three sisters rally and support each other. But it has to be the prancing grannies that stole the show! These old gals just knew how to push their way into the happily ever after in the best way possible, all while still adding loads of sass!
Tease is filled with a good dose of will they or won't they suspense and one oh so sweet friends to lovers romance this book is a total must read!
Book Info:

Publication: July 11, 2022 | Melanie Harlow | Cloverleigh Farms #8
I didn't mean to say I was engaged to a hot billionaire–it just slipped out.
In my defense, I'd had a really bad haircut, a really strong drink, and I was trying to save face in front of the Mean Girl at my high school reunion.
Lucky for me, I happen to know a hot billionaire. Hutton French and I have been friends forever, and even though big social gatherings are not his thing, I called him from the coat closet and begged him for a favor–show up and play my fake fiancé for the night.
Except that word of our engagement spreads like wildfire. Our families are ecstatic. We're front page news. My little food blog is launched into the stratosphere.
Of course, I offer to set the record straight right away, but Hutton wants to give it a little time–the phony engagement is keeping his matrimony-mad mother and every matchmaking granny in town off his back.
He even suggests I move in with him to make the ruse more real.
And we don't stop there.
We practice kissing. Undressing each other. Saying things–and doing things–we'd never dare if we weren't pretending. Because it's all for show, right? We're just role-playing. Hutton doesn't want a real relationship, and I don't want to get hurt. But the more time we spend faking it, the more I start to wonder.