In How to Hack a Heartbreak by Kristin Rockaway, Mel Strickland, and every woman she knows, is sick of the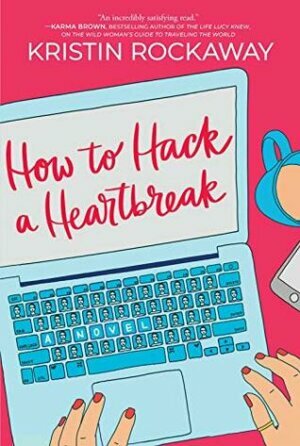 horrible world of dating. Take the Fluttr app for example. It seems like a good idea, getting to swipe when you see a hot guy's picture, knowing he's in NYC and ready to date. But instead, Mel and all the rest of the woman using the app get, well, let's say, unwanted pics of certain male anatomy more than they get any actual dates set up. Between that and getting ghosted–with the guy either not showing up or suddenly not hearing from him ever again–Mel has had enough. And after one final bad non-date, her idea for a new app JerkAlert is formed. One that will let women vent their experiences with guys they've met on Fluttr so they can caution other women against them.
'Now I was out for revenge. Not just for me, but for every single woman in New York.
It was time to bring reference checking to the masses.
That's how JerkAlert was born.'
On top of her dating life being a mess, Mel has been stuck at the same job working the helpdesk at an IT company for the last four years. On a daily basis she has to take care of issues with a smile on her face, even though the supposedly smart guys that work at the startup can't even fix their own computers–or treat her with any kind of respect at all. Well, all except one guy: Alex Hernandez. He's definitely different than his fellow bros who are all looking to be the next big thing, getting funding for their apps. But Mel still isn't sold on how sincere Alex is in his interest in her. She's been played one too many times. And when her new app takes off, becoming a smashing success overnight, she has a lot to think through. Does she go public with being the creator of JerkAlert? Or does she keep momentum building for now? And should she tell Alex? Only time will tell if her decisions are the right ones.
'He looked up at me, eyes shimmering in the dim light. No one had ever looked at me that way before, like I was adored. In that moment, I wanted to believe every word that ever came out of his mouth.'
An amusing look at love and dating disasters in the modern world of technology, How to Hack a Heartbreak will surely have readers chuckling as much as they are commiserating with our heroine Mel's romantic woes.
'I truly believed JerkAlert could be financially rewarding one day. I even believed it could be revolutionary. But at the moment, I was having second thoughts about whether I wanted to lead this particular revolution.'
This was my first time reading Kristin Rockaway and it was quite a fun adventure. I liked her writing voice, with the way Mel's story moved along at a good pace and one scene flowed easily into the next. This was a contemporary book in every way–which worked well for me, but might not for others. Mel was fairly outspoken. She wasn't afraid to call guys out on their games, which was both funny and kind of sad at times, when you think of her experiences being based on real life. (FYI: There was a fair amount of swearing, for those who don't like that in a story.) And the majority of the storyline revolved around Mel's disastrous time using the Fluttr dating app (I'm assuming similar to Tinder) and how she created her own app from her frustration with how guys treated women on there.
I'm going to be honest here that I was seriously upset on Mel's behalf over the way she was treated at her job at Hatch. I'm sure we've all been through something similar ourselves before, but let's just say that Mel had to deal with chauvinistic males that were way, way out of line. I did like that she tried to remain professional and thought things through (mostly) instead of stooping to her boss and coworkers' level. She proved that women *can* write code and kick butt in the IT world. (lol) And best of all, Mel's emotions seemed genuine and completely on point with everything she went through.
Rockaway created some really great secondary characters as well. Mel's roommate Vanessa was a hoot. It was interesting to see where her part of the story went and to get a tiny bit of her background as things progressed. And Mel's best friends? What a rock solid group of ladies! Whitney, Lia and Dani each had their own things going on in their lives but they were totally there for their girl when she was down. I had to laugh when they met Mel's love interest, Alex, and might have kind of interrogated him to make sure his intentions were real. I wasn't quite sure about him myself a few times. But I think Rockaway, again, made his interactions with Mel and their coworkers realistic and I loved how it all ended.
A fresh breath in romantic comedy, I think Kristin Rockaway has a hit on her hands with the captivating and highly enjoyable How to Hack a Heartbreak. It's sure to be a must-have for your summer reading list.
Book Info:

Publication: July 30th 2019 | Graydon House |
Swipe right for love. Swipe left for disaster.
By day, Mel Strickland is an underemployed helpdesk tech at a startup incubator, Hatch, where she helps entitled brogrammers–"Hatchlings"–who can't even fix their own laptops, but are apparently the next wave of startup geniuses. And by night, she goes on bad dates with misbehaving dudes she's matched with on the ubiquitous dating app, Fluttr.
But after one dick pic too many, Mel has had it. Using her brilliant coding skills, she designs an app of her own, one that allows users to log harrassers and abusers in online dating space. It's called JerkAlert, and it goes viral overnight.
Mel is suddenly in way over her head. Worse still, her almost-boyfriend, the dreamy Alex Hernandez–the only non-douchey guy at Hatch–has no idea she's the brains behind the app. Soon, Mel is faced with a terrible choice: one that could destroy her career, love life, and friendships, or change her life forever.