Resist by K. Bromberg: Vaughn is smart, savvy, and determined. She's forged an unconventional path and created a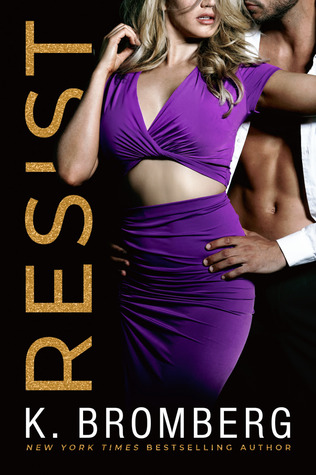 new persona for her business. She's independent, feisty, and not interested in a relationship. Vaughn has a lot to juggle and secrets to keep, if only she can keep her worlds separate.
Ryker is a much in demand divorce lawyer who only takes on male clients. He's a sexy alpha who wears power like a suit. He doesn't do complicated or relationships and he doesn't like many of the men he associates with in his circle of power players.
Ryker takes Vaughn by surprise. She's used to demanding clients, but he's the first one to get to her and tempt her. Ryker is intrigued and plays games to get exactly what he wants from her.
"You don't let up, do you?" His question throws me momentarily. The admiration in his voice even more so.
"I'm not like most women, Mr. Lockhart. I'm not one to be impressed by a smooth-talking man or a large bank account."
"Then what is it that would impress you?"
Ryker and Vaughn surprise each other. They didn't see each other coming and didn't expect their arrangement to spin so far out of control. Ryker makes her feel safe and desired, while she challenges him instead of falling at his feet. Both struggle with trust, but they sneak past each other's defenses.
"That's not a good enough answer."
"And I'm not on the stand under your cross-examination."
"Christ, you're maddening, woman."
"Thank you."
"And gorgeous."
Resist is an intriguing and sexy first part of a new duet. K. Bromberg pulls you in with complex characters and provides banter, heat, and heart. Ms. Bromberg combines sex, scandal, and politics with great characters and I story I can't wait to continue. Fans of Natasha Madison and K.A. Linde will enjoy Resist.
Book Info:

Publication: July 30th 2019 | Montlake Romance | Wicked Ways #1
From the New York Times bestselling author of the Driven series comes a powerful romance about reaching great heights through low depths.
Who says you have to play by the rules to get what you want?
Agreeing to meet Ryker Lockhart is my first mistake. Rich, handsome, and more than intriguing, he thinks blackmail will bend me to his will.
But he's wrong.
I may have done a few things that weren't exactly legal, but I have my own reasons for that. The last thing I'm going to do is let some high-powered divorce attorney come into my life, have my body, and rule my heart. Not to mention ruin everything that I have carefully built in just a short amount of time.
But as much as I try to resist him, and against my better judgment, there is something about him that has me agreeing to his proposal.
I'm putting everything on the line for him. I just hope I won't lose everything when this is all over.