How to Lose a Fiancé by Stefanie London: An arranged marriage? Really in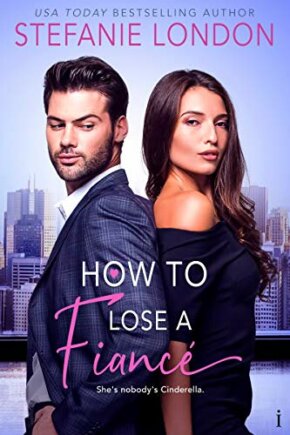 this day and age? In America?
Sophia Andreou couldn't believe it when her father told her she was being "sold" as part of a deal to sell his business. He had been controlling before but this was truly OVER the top. How was she going to fix this?
Dion Kourakis didn't know what was going on. How could someone include their daughter in a business deal? Granted he wasn't a father but how could any one do that? Still he wanted this business and it was already personal. What was one more thing? It's not like he was in love nor was it like he was EVER planning to be, so it wasn't that big a deal, was it?
Sophia has a plan, but if you want to hear God laugh, tell him your plans…. When Dion and Sophia finally get to meet their real selves will anything ever be the same? Will the future be as planned? Or will life never be as anticipated?
Ms. London is one of those authors who can turn a story you were never going to like or a genre you swore you would never read into one of the most engrossing reads you've ever read. The story seems to pop off of the page and into your life. The way the story flows is like you are standing under a waterfall and you never know what is coming down, other than the amazing flow of the cool wonderful water. Ms. London just has a way with words that snatches you into the story and doesn't allow you out until she is done with you. This is a great read and worthy of your time.
Book Info:

Publication: Published June 17th 2019 | Entangled Publishing LLC | Indulgence) |
Sophia Andreou has always been the "good daughter" who tried to keep her domineering father happy. She followed the rules and did everything that was asked of her. But this time, her father is asking too much. The family company is crumbling, and her father has arranged a marriage to a Greek billionaire who can save their property business. What?! Umm no thank you. If Cinderella can dress up to win a prince, surely Sophia can do the opposite and ditch hers…
Dion Kourakis has come a long way from being an orphan with only a single friend to his name. Now he runs a billion-dollar investment company and has the respect of everyone in Europe. His charming personality covers a lot of emotional scars, including his desire to make his mentor proud. Dion doesn't exactly want a bride to go along with his next business deal, and he plans on letting the lass down gently when they meet…
Only, his future bride has turned out to be nothing like what he thought she'd be. She's quirky and has a habit of turning up to social events in strange outfits. It doesn't take a genius to figure out what she's up to, but the harder she tries to convince him she'd be an awful wife, the more he wants to convince her they'd be perfect together.