How to Love a Duke in Ten Days by Kerrigan Byrneis the first book of the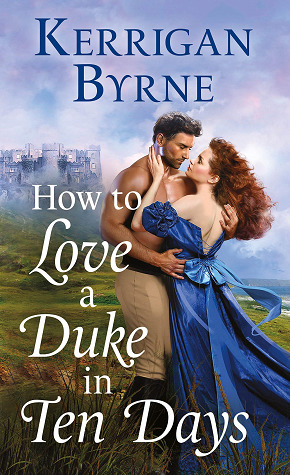 Devil You Know series and a wonderful start of the series.
This author is one of my favorites so I was so excited to read it. I loved all the characters, but this book was Piers and Alexandra's story.
Piers, the Duke of Redmayne, needed to get married and have an heir, so he decided to honor a childhood betrothal. Lady Alexandra arrived at his estate after receiving an invitation from one of her best friends, Francesca.
The Red Rogues (Francesca, Cecelia and Alexandra) were close friends from school and had bonded over childhood secrets. Francesca was trying to avoid marriage to Piers. Alexandra is being blackmailed and decides to marry Piers in order to have his protection.
There are several mysteries happening in the book with lots of unexpected twists. It kept the reader's attention throughout the book. I can't wait to read Francesca and Cecelia's stories.
Book Info:

Publication: August 27th 2019 | St. Martin's Paperbacks | Devil You Know #1
These men are dark, bold, and brave. And there is only one woman who can bring them to their knees…
Famed and brilliant, Lady Alexandra Lane has always known how to look out for to herself. But nobody would ever expect that she has darkness in her past—one that she pays a blackmailer to keep buried. Now, with her family nearing bankruptcy, Alexandra strikes upon a solution: Get married to one of the empire's most wealthy eligible bachelors. Even if he does have the reputation of a devil.
LOVE TAKES NO PRISONERS
Piers Gedrick Atherton, the Duke of Redmayne, is seeking revenge and the first step is securing a bride. Winning a lady's hand is not so easy, however, for a man known as the Terror of Torcliff. Then, Alexandra enters his life like a bolt of lightning. When she proposes marriage, Piers knows that, like him, trouble haunts her footsteps. But her gentleness, sharp wit, independent nature, and incredible beauty awakens every fierce desire within him. He will do whatever it takes to keep her safe in his arms.