Seven Nights of Sin by Kendall Ryan: Presley is determined to make things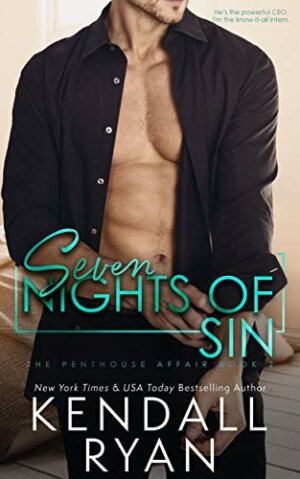 right. She is both a bright and determined intern and the woman who seemingly broke through Dominic's walls. She doesn't regret crossing the line between personal and professional with her boss, but now everything is hanging in the balance.
Dominic has good reason to be wary of women, and how he's chosen to live his life didn't provide an opportunity to change his perceptions. He's a devoted dad and total workaholic who is trying to find the balance between those roles in his life. Presley has tempted him like no other woman, but he's not sure he could ever fully let her in.
"I want to believe you." I drag my hand over the stubble on my cheek, with a loud, aggravated sigh. I'm just so drained. "Maybe I do. But I still don't know where we stand, whether I can trust you anymore." Even if I wanted to.
She presses her lips together, blinking fast, then nods. "That's fair. I just…wanted to tell you."
Dominic is really at war with himself as his head and heart very much disagree on what he should do about Presley. She is nothing that he expected and she proves how valuable she is both in his business and to him on a personal level. She's also not a doormat and she's learned to ask for, and go after, what she wants.
I would laugh at her trademark resolve if I weren't rapidly approaching exasperation. "I'm trying to apologize for not treating you better."
"I know. And I appreciate that. I just need to know you see me as an equal. I don't want you handling me with kid gloves. I agreed to this"-she waves a hand as she searches for a word-"arrangement of my own free will."
Seven Nights of Sin is sexy yet heartwarming. Kendall Ryan continued to develop the characters, relationships, and romance. Ms. Ryan provided great characters including their friends and family. This duet should be read in order with Seven Nights of Sin following The Two-Week Arrangement. Fans of Meghan Quinn and Emma Hart will enjoy Seven Nights of Sin.
Book Info:

Publication:  June 25th 2019 | Pub: Kendall Ryan | Penthouse Affair #2
He's the powerful CEO. I'm the know-it-all intern.
Things went further than they should have, but I don't have any regrets. Well, maybe just one…
I went and did the one thing he told me not to – fall in love with him.
Now I have seven days to prove my trust and devotion. Turns out money is a powerful drug, but love is even more addictive.
Seven Nights of Sin is the stunningly sexy and heart-tugging conclusion to The Two Week Arrangement.