How to Marry a Cowboy (Cowboys & Brides #4) by Carolyn Brown is a sweet, sassy, sexy, laugh out loud book that had me hooked from the first page. I have read other books by Carolyn Brown and this book was just a great as all of the others.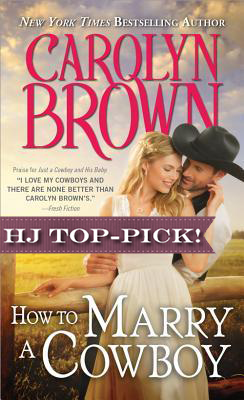 Mason Harper was shocked to walk out on his front porch to find a sleeping woman in a torn wedding dress on his porch swing. As shocked as Mason is, it is nothing as to how excited his twins, Lily and Gabby, are to finally have a mama of their very own. But Mason it cautious, he is not sure what type of scam she might be playing, and he cannot deny the sparks that are flying between the two of them. Now he just needs to remember the rules:
First ~ No getting involved with a woman he employees, Second ~ never have a woman in the house. The more time they spend together, the more that the rules begin flying out the window.
Annie Rose is on the run, trying to get as far away from the abusive boyfriend that has threatened to kill her if he ever finds her. She wants to run as far and as fast as she can, but something about Mason and the twins has her agreeing to stay and help with nanny duties. Now she is in over her head, her feelings for the twins grows stronger ever day, and just one look at Mason makes her melt into a puddle. Now she needs to decide if she is going to make a run for it, or stay forever in the first place that truly feels like home.
Mason and Annie have a true connection. They are so similar in values and beliefs that it made them a easy couple to love. The situations with the twins, their birthday goats and a old tomcat made me laugh till my sides hurt. What made Mason and Annie Rose so wonderful is that they both have hurts that they need to get past, her with an abusive relationship, him with the death of his wife eight years prior. The relationship did not feel rushed, but flowed naturally, and the respect and love that these two have for each other, for the twins and for their families and friends is truly inspiring. If you are looking for a sweet, sexy cowboy love story, pick up How to Marry a Cowboy, will be cheering at the end. I gave this book 5 sassy stars.
Book Info:

Published July 1st 2014 by Sourcebooks Casablanca | (Cowboys & Brides #4)
Rancher Mason Harper's two little girls want nothing more than a mama of their own. So when a pretty woman appears on his front porch in a tattered wedding dress, while Mason's looking for a nanny, he can't help but wonder if it's fate.
Annie Rose Boudreaux is in a downright hellish mess. She's just a few steps ahead of the low-life ex who's been hot on her heels, but she's tired of running, and nannying Mason's two sweet girls may be just what she needs. As her days on the ranch fly by, and the night's with Mason get hotter, Annie Rose decides that she's going to stay…for a lifetime.