How to Plan a Wedding for a Royal Spy by Vanessa Kelly: Time, male stupidity, and war can't even kill the truest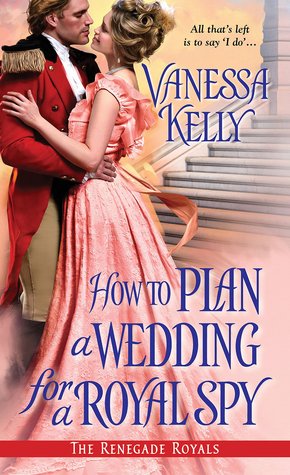 of loves. However it can force that love into a deep dark closet that only jealousy and fear can release.
Evelyn, Evie, Whitney was sick of living under her mother's thumb. So much so that she was willing to marry her friend and spend the rest of her life without passion just to get out. She had her one love when she was younger and no one could else would ever be able to hold her heart again. So as a young lady, a wallflower, she would marry her friend and devote herself to her charity, helping the Irish coming into England.
William, Wolf, Endicott was the bastard son of the Duke of York. He was a war hero. He is now a spy and sent to spy on his past love. The problem was the past isn't always the past and as he gets to know Evie as the young lady she is now he realizes that he wants to bring the past into the future.
So what happens when you put Wolf and Evie together, throw in a matchmaking mama, an assignation plot and a whole lot of chemistry? A very explosive couple of weeks and the chance at true happiness.
Ms. Kelly has taken her readers back to this group of Renegade Royals, but this can be read as a stand-alone novel. It is a great historical romance where Wolf has a bit of a mouth and Evie is battling to be her own woman in a time when that wasn't allowable. As always Ms. Kelly has made an amazing story, its details draw you in and don't want to let you go. Wolf is very similar to his name, he will sink his teeth into you and not let you go. Thank you Ms. Kelly, now about Alec… when is his story coming?
How to Plan a Wedding for a Royal Spy is a great story for lovers of exciting historical romances who like a taste of an alpha.
Book Info:

Published January 6th 2015 by Zebra
Whether as spies or lovers, the Renegade Royals—illegitimate sons of England's Royal Princes—are bold, skillful, and a force to be reckoned with…
A war hero returned from Waterloo should be able to indulge in a bit of bad behavior. Instead, Captain William Endicott is summoned by his father, the Duke of York, to investigate an assassination plot. The unlikely suspect: William's former sweetheart. Will can't believe that innocent Evie Whitney could be mixed up in anything so nefarious. Then again, almost everything about Evie has changed—except for his body's instinctive response to hers…
Just as Evie's life is finally coming together, Will saunters back into it. Should she slap him—or seduce him? Even as she tries to decide, scandal pushes her toward marriage with a man she can neither trust nor resist—and into the heart of a deadly conspiracy…