In The List by Joanna Bolouri, Phoebe Henderson is starting her new year off with a broken heart and a serious lack of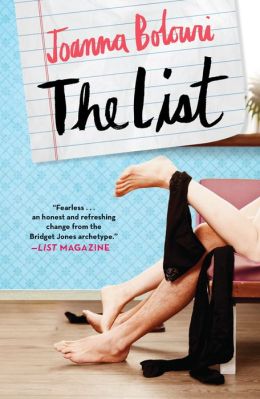 nooky. She's putting on a brave front for her best friends but she's ready to make some decisions in her life. Instead of making a bunch of changes that will only last a week or two, tops, Phoebe is picking one area of her life to focus on. What better than her sex life?
'That's it! That's what I'm going to change, what I'm going to do differently this year. That's going to be my one resolution: I'm going to improve my sex life!'
With the help of her best friend Lucy, Phoebe creates The List. It depicts everything she's ever wanted to try, and some things she's refusing to try, when it comes to the bedroom. Thus begins her year of learning what she likes, what just doesn't work for her at all, and what she's looking for in a partner. Now if Phoebe can just find a guy that is a match romantically and sexually, she'll be on top of the world. But it may prove to be easier said than done.
'At 15 I never doubted for a second that I'd find the man of my dreams and live happily ever after. I never doubted I'd be happy. 17 years later, I doubt it every single day.'
The List is one outrageously hilarious scene after another. Think of Phoebe as sort of like a Scottish version of Bridget Jones, with just as many awkward situations, a lot more swearing…and tons more sex.
'Any kind of self-respect I had at the beginning of the year has been lost. I have to get it back and remember that when life gives you lemons, add them to gin and stop fucking moping.'
I honestly don't think I've laughed this much reading a novel in a long, long time. Phoebe and her motley bunch of friends were honest, blunt, and actually really delightful. I went into this story strictly for good fun and entertainment. I wasn't necessarily looking for an in-depth, thought provoking journey. But I surprisingly realized that there was a lot more depth to what Phoebe found out about herself while navigating the list than I expected. I loved that, yes, there were a lot of cheeky, raucous moments, but friendship and the search for true love was an important component to the storyline.
I tend to enjoy stories that take the main character(s), and of course the readers, on a journey while they make changes in their lives. In Phoebe's case, owning her sexuality was a way to empower herself and to finally feel free for the first time. Did I like all the choices she made? No. Did I agree with how she handled certain situations? Nope. But that was the fun of watching Phoebe make her own way, making mistakes so she could find out who she really was. And I loved that she had her friends along the way to help out: Oliver, Lucy, Hazel, and Paul. Their involvement in her life made for some amusing and jaw-droppingly funny scenes.
If you're in a book rut and you are looking for something fun to start your year off right, pick up The List. Just make sure you read it somewhere you can laugh out loud continuously.
Book Info:

Published January 6th 2015 by Quercus (first published December 5th 2013)
Longlisted for The Guardian's "Not the Booker" prize, The List is the hilarious debut novel from Scottish comedienne Joanna Bolouri. Phoebe Henderson may be single but she sure doesn't feel fabulous. It's been a year since she found her boyfriend Alex in bed with another woman, and wine-fueled nights of relationship analysis with her best friend Lucy have done nothing to improve her dating situation.
Faced with another year without love, Phoebe confronts her fears and decides to forgo romantic love altogether. She comes up with The List: ten things she's always wanted to do in bed but has never had the courage to try. One year of pleasure, no strings attached. Simple, right? In a chaotic, embarrassing, exhilarating, and ultimately transformational year of self-discovery, Phoebe finds surprises, friendship, confidence, and even love, through good and bad sex.