Huge Deal by Lauren Layne: Kate is the uber competent, efficient, and organized assistant to Kennedy, Ian,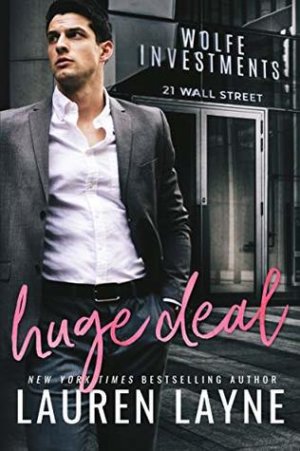 and Matt at Wolfe Investments. She keeps their work, and often personal, lives running like well-oiled machines. But she's fed up with loving and lusting after the always proper Kennedy after all this time. She's a romantic at heart and knows that it's time to change something if she wants the "all in" love her parents have.
Kennedy has it all: a job he loves, a great family, an assistant who is always a step ahead of him, and his best friends. Yet he's starting to feel lonely and like he's missing something in his life now that Ian and Matt have found their better halves. He wants marriage and kids, but not the all-consuming love that would wreak havoc with his need for control.
While Kate is the best assistant, she's under his skin. Kate delights in irritating and aggravating him and they don't have the easy camaraderie that she shares with Ian and Matt. He thrives on being in control and knowing others, but he's bothered by the fact that Kate knows more about him. They bicker in part because they share many of the same traits. The tension between them is clear to everyone around them as she tries to bury her feelings and he's in denial about his.
"We should get back to the party."
Kennedy scowled. "You can't leave in the middle of a chess game."
"Oh, did I forget to mention?" she asked causally, pulling her hair out from the neck of the jacket and letting it fall, dark and heavy, against the lapel, then pointing down at the board. "Checkmate."
Kennedy begins to clue in to his feelings about Kate and in true Kennedy fashion has to overthink it all. He needs to get a handle on the situation, including his true feelings and desires, and then plan out a course of action, but Kate brings out new feelings in him. He's sweet, generous, romantic, charming, and sets out to show Kate that he's worth the risk.
"Do you trust me?" he asked quietly.
She hesitated only a moment, then nodded.
Hope soared. "Good. I'll pick you up at eleven tomorrow."
Huge Deal has humor, heart, heat, banter, friendship, family, conflict, angst, and plenty of tension. Lauren Layne delivered on the promise of this office romance to close out an entertaining and sexy series. Ms. Layne developed a great cast of characters and introduced fun new characters in their respective families. Huge Deal can be read as a standalone in the 21 Wall Street series. Fans of Stefanie London and Sydney Landon will enjoy Huge Deal.
Book Info:

Publication: Published February 12th 2019 | Montlake Romance | 21 Wall Street #3
Even for a top-gun banker, temptation this hot is quite a gamble, in a sexy Wall Street romp from New York Times bestselling author Lauren Layne.
An alpha among the wolves of Wall Street, Kennedy Dawson rose to the top of the pack by striking the right contracts at the right times. But there's one deal that's been giving him a run for his money—a pact to never again let his assistant, Kate, get under his skin. She may be smart, gorgeous, and sharp as a whip, but she's definitely off-limits.
Kate Henley isn't a banker, but she knows a thing or two about risk management—specifically, about managing her attraction to her smolderingly sexy boss. She already fell once, and Kennedy showed no sign of paying a return on her investment. So when Kennedy's brother starts pursuing her, Kate figures she has the best of both worlds. Jack is charming, rich, very attentive, and the spitting image of his older brother.
It's also making Kennedy think twice. But to win Kate's heart, he'll have to broker the deal of a lifetime…and prove he's worth the risk.