In Hunted by Karen Robards, Reed is a homocide detective in New Orleans. Having lost his ex-wife and young son in an accident 3 years ago, Reed has been living to work. But he is getting tired of it, tired of all the killing and badness. Holly and Ant are two young teen boys he has come to know through work and has befriended, trying to help after they lost their mother to murder. With Holly determined to find the people responsible for his mother's death, Reed becomes entrenched in a graveyard of gang related killings. But does the murder stop with the gangs? Or is there more going on than anyone would want someone like Reed to find out?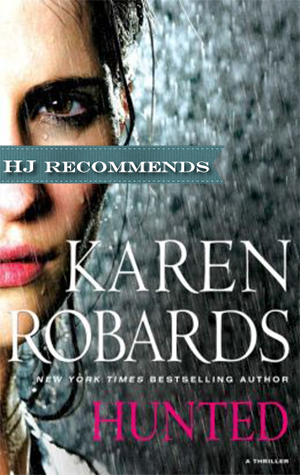 To get to the truth that no one wants him to know, to save Holly and Ant, Reed ends up doing what he never thought he'd be doing and suddenly it's his life in danger too and him who is on the run. With his past being used against him, is there anyone Reed can trust to help him uncover the truth? Or is his life as he's known it over now?
Caroline might just be that one person. A person from his long ago past that he knew when she was a teenager, Caroline is now a Jefferson Parish police sergeant and a hostage negotiator. When she is called out on Christmas Eve to a mansion where some of Jefferson Parish's top brass are being held hostage, she is shocked to discover not only is one of the hostages her father, but the hostage taker is Reed. When Reed manages to escape, taking Holly and Caroline with him, Caroline soon begins to realize there is a lot more to the story than Reed is telling her…and she soon begins to realize she really does want to help him. Just being with him has put her in danger now too…and Reed is going to have to trust someone to help him. For someone who trust's no one, it will be a big step for Reed to trust Caroline, but it might be one he has to take, even if there is far more going on than Caroline can imagine. Their lives, as well as Holly and Ant's may depend on it. Will they be able to find out the truth and the who before someone silences them forever?
The attraction Reed and Caroline feel towards each other further adds intensity to the plot of Hunted…is it true attraction or part of the chase?
I have been waiting so eagerly for Hunted by Karen Robards and she does not disappoint!! Hunted will have you on the edge of your seat as Karen takes us on a fast paced, thrilling adventure! Caroline and Reed are both strong, stubborn characters who have the potential to work very well together if they can get to that. They have a lot in common, they both have pasts they have struggled through, but they have both become honorable people I'd love to meet up with! It's always disturbing to read about corruption in law enforcement and from the side Karen tells it from, she makes the Hunted very realistic and you will find yourself thinking that could actually happen.
Hunted takes place over a very short time period, but Karen still manages to draw from Reed and Caroline's pasts and presents so that you get a very good understanding of them as people. I felt I got great background on them through out Hunted that added strength to who Reed and Caroline are today and their actions. When you read Hunted you will never be bored, you won't be able to put it down! The heat Reed and Caroline can create between the two of them, and the way they try to deny it adds some great romance to a powerful suspense. I couldn't wait to see if they would have the chance to be together.
I loved Karen's setting for Hunted, her descriptions of New Orleans and the bayou will take you there!
Hunted is a suspenseful mystery with a lot of heat between two characters fighting for what's right. I would highly recommend Hunted to any romantic suspense reader…brace yourself!
Book Info:

HJ Recommends
December 10th 2013 by Gallery Books
'Twas the night before Christmas . . . and dozens of rich, influential hostages are trapped inside a sprawling lakefront mansion in New Orleans. The perp? Detective Reed Ware, model cop turned outlaw. After receiving a panicked call from Hollis "Holly" Bayard, a teenage street tough with a penchant for amateur sleuthing who stumbles upon the scene of a drug-deal-turned- murder, Ware finds his and his friend's lives in dire danger. The crime Holly witnessed could be the biggest police cover-up this side of New Orleans—and no one's talking. Driven to desperate measures to uncover the truth, Ware stages a coup at a Christmas party for the New Orleans elite, including the mayor, the council chairman, the sheriff, and the superintendent of police, who just happens to be hostage negotiator Caroline Wallace's estranged father.
Cool, calm, controlled. That's Caroline's reputation. But when she's brought in to talk Ware off the proverbial ledge, she realizes no amount of false promises is going to placate this man, who looks even hotter than he did years ago when seventeen-year-old Caroline tried to seduce him. It was his duty to protect her family then. Now it's her turn . . . if she can think fast enough over the pounding of her heart.
When Caroline becomes wrapped up in the drama, it's clear the sizzling tension she shared with Ware never let up. And the harder she tries to defuse the situation, the more she begins to wonder whose side she's really on.